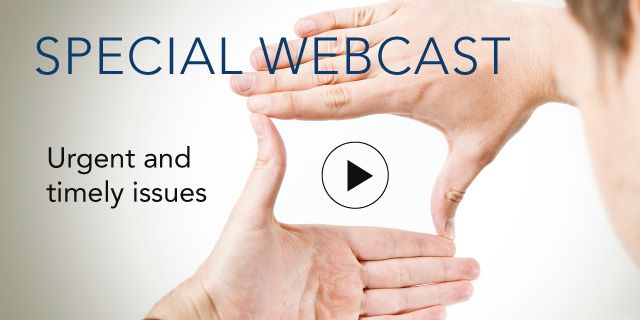 Hidden Talent Pools and OFCCP Regulations

17 June, 2014 | (01 hr)
Sign In to access this Webcast
Eighty percent of recent survey respondents plan to make changes to their veteran and disability employment programs in response to the new OFCCP regulations. However, less than one-third of respondents fully understand the VEVRAA regulations and only about 40 percent fully understand the Section 503 regulations. Aimed at helping federal contractors and non-federal contractors improve the effectiveness of their disability and veteran programs, this webcast explores the actions taken by some employers in response to the OFCCP regulatory changes, including planned improvements and important areas of focus. Recommendations, solutions, and case studies will also be highlighted.
Who should attend: D&I and HR practitioners responsible for diversity, disability, and veterans initiatives.
This program includes captioning for the hearing impaired.
Speakers
Andrea Bacher
VP, Human Capital Management
Goldman Sachs

Andrea Bacher is a Vice President in the Human Capital Management Division at Goldman Sachs. Andrea holds a BA in Political Science from Universidad de San Andres in Buenos Aires, Argentina and a Masters in Social Policy from Columbia University in New York. Andrea joined Goldman Sachs in 2010.Full Bio

Elizabeth Tyndell
VP, Human Capital Management
Goldman Sachs

Elizabeth Tyndell is a Vice President in the Human Capital Management Division at Goldman Sachs. Elizabeth holds a BA in Psychology from Hope College in Holland, Michigan. Elizabeth joined Goldman Sachs in 2008.

...Full Bio

Aida Sabo
VP of Diversity and Inclusion
Cardinal Health

Aida Sabo, Vice President, leads Diversity/Inclusion at Cardinal Health. Her focus is setting strategy creating an environment of inclusion that leverages diversity as a competitive advantage and executing a Global Diversity/Inclusion Strategy, which she's developed for 3 Fortune 100 ...Full Bio

Russell Morris (Moderator)
Vice President, US Councils
The Conference Board

Russell Morris is the vice president of US Councils at The Conference Board. He leads an amazing team that supports and engages almost 3,000 senior executives in a broad array of executive peer-learning networks. From its first Council on Personnel in 1927 to its latest Council on Intelligent Aut...Full Bio