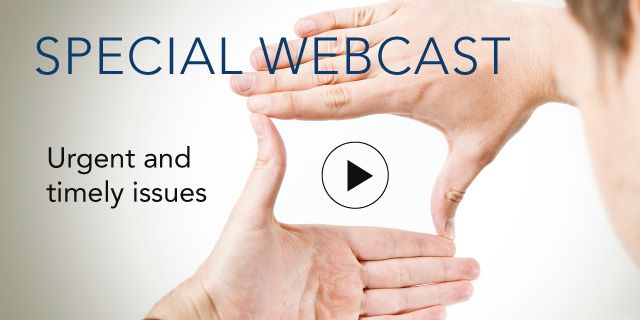 501(c)'s and the Proposed Political Activity Rules: Implications for Business

02 April, 2014 | (01 hr)
Sign In to access this Webcast
This winter, the IRS and Treasury Department issued proposed regulatory changes for 501(c)(4) organizations, also known as "Social Welfare Organizations." Much has been made of the political activity of these groups and the extent to which their activities are funded by the "dark money" of corporations. It is likely that new rulemaking will impact ways in which corporations interact with these social welfare organizations as well as other tax-exempt groups such as unions, charities, and membership organizations.
On our webcast, we'll discuss the potential impact of current and proposed rules on corporate political and philanthropic activity, how companies can ensure that they understand the changing rules, providing appropriate board oversight, ensuring against reputational injury, and can anticipate where things are headed with respect to corporate political activity regulation.
Who Should Attend: General Counsel, political compliance lawyers, government affairs professionals, corporate secretaries, heads of citizenship/CSR.
Speakers
Stefan C. Passantino
Partner
McKenna Long & Aldridge LLC

As head of McKenna Long & Aldridge's Political Law Team, Stefan C. Passantino has a nationwide practice focusing on representing corporations, interest groups, political figures, and other entities with respect to state and federal election law, campaign finance, pay-to-play and lobbyin...Full Bio

Wesley Bizzell
Assistant General Counsel and Director of Political Law and Ethics Programs
Altria Client Services Inc.

Wesley Bizzell serves as Assistant General Counsel, External Affairs and Director of Political Law and Ethics Programs for Altria Client Services LLC ("ALCS"). Mr. Bizzell provides in-house legal counsel on matters relating to the political, legislative, and lobbying activities of Alt...Full Bio

Marcel Bucsescu (Moderator)
Co-Program Director, Chief Legal Officers Council
The Conference Board

Marcel Bucsescu is a Co-Program Director of The Conference Board Chief Legal Officers Council. Bucsescu has also served Executive Director of the Ira M. Millstein Center for Global Markets and Corporate Ownership at Columbia Law School and led strategic initiatives for the Office of the CEO at LR...Full Bio