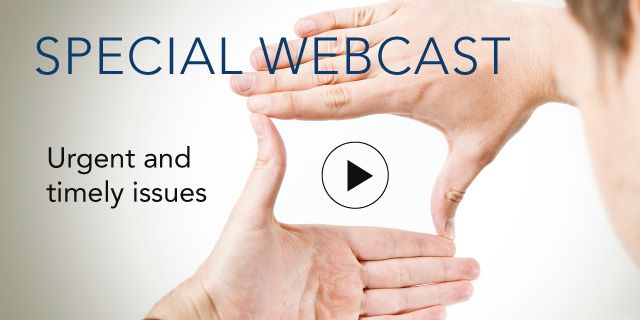 2014 Corporate Governance Trends: Diversity/ Risk/ Compensation

04 March, 2014 | (01 hr)
Sign In to access this Webcast
Attendees will learn about the following trends:
Developments in board composition and diversification efforts and the prospects of further diversification of public boards.
The growing board concern about political spending and contributions, with suggestions on how boards can effectively tackle oversight in this complex area.
The increasing importance of risk oversight by boards, including finding the right balance between oversight and ensuring proper risk management takes place, the notion of strategic risk management, and whether boards should entertain having a separate risk and/or compliance committee.
The rising importance of getting pay for performance right at the compensation committee level
Who Should Attend Board members (including audit, compensation and risk committee members and chairs), corporate secretaries, general counsels, chief compliance and ethics officers, governance experts, CEOs, and chief human resources officers.
Speakers
Jane Storero
Vice President Corporate Governance
Pepco Holdings, Inc

Jane K. Storero is Vice President –Corporate Governance for Pepco Holdings, Inc, a public utility holding company located in Washington, DC. Ms. Storero is responsible for all aspects of Pepco's SEC reporting. Prior to joining Pepco, Ms. Storero was a partner in the Public...Full Bio

Yelena M. Barychev
Partner
Blank Rome LLP

Yelena Barychev advises management on:

corporate governance issues

executive compensation matters
compliance with NYSE and NASDAQ listing requirements

public and private offerings of debt and equity securities
preparation of pr...Full Bio

Andrea Bonime-Blanc, JD, PhD (Moderator)
Chief Executive Officer
GEC Risk Advisory LLC
TCB Research KBI Report Author
Emerging Practices in Cyber Risk Governance

Dr. Andrea Bonime-Blanc is the lead cyber-risk governance author and researcher for The Conference Board. She is the chief executive officer of GEC Risk Advisory LLC, the global governance, risk, ethics, compliance, reputation, and crisis advisory firm, serving executives, boards, investors, and ...Full Bio