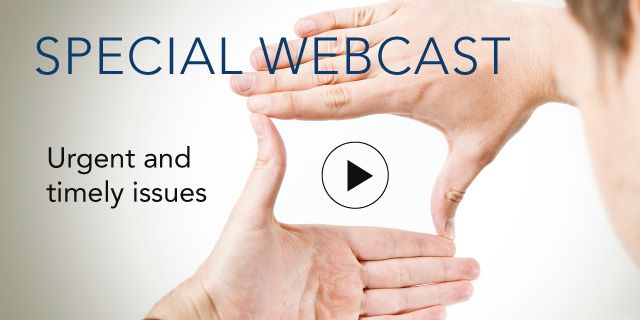 Developing Gold Medal Leadership Characteristics Part I

27 February, 2014 | (01 hr)
Sign In to access this Webcast
Millions of people around the world have been inspired by the performance, courage, and determination of elite disabled athletes. How have they achieved so much against all the odds? According to recent research from The Conference Board, today's business leaders require a clear sense of purpose, trust, collaboration, resilience, and performance edge. So what can business learn from elite disabled athletes? This three-part webcast series explores these leadership characteristics by talking to successful elite disabled athletes to understand what these characteristics mean to them and how they develop them.
Part I: Finding your Purpose
Exploring your purpose and its fit with that of the wider organization is fundamental to finding meaning in work.
Talking points:
Finding your purpose & that of your organization
Finding meaning in what you do
Getting back on track
Coping with moral dilemmas
Personal motivation & inspiring others
Importance of trust and collaboration
To view the recording of Part II: Resilience - click here
To view the recording of Part III: Developing Performance Edge - click here
Speakers
Karen Lewis-Archer
Former Paralympian Athlete

Formerly a very accomplished swimmer, Karen joined Red Star Athletics Club in Glasgow and with coach Ian Mirfin, soon started breaking world records. In the lead up to the Sydney Games Karen was ranked number one in the world, however it was then that she developed a serious wrist problem that wo...Full Bio

Peter Russian
Chief Executive
Investors in People Scotland

Peter is the Chief Executive of Investors in People Scotland, and has overall responsibility for the long-term growth of Investors in People in Scotland. Since his appointment in 2003, Peter has led a major programme of change which has impacted on how IIP is used to support change and employee e...Full Bio

David Learmond (Moderator)
Senior Advisor and Senior Fellow, Human Capital and Program Director, Asia-Pacific Human Resources Council
The Conference Board

David Learmond is a senior advisor and senior fellow in human capital at The Conference Board. In these roles, he supports the human capital practice, which includes Human Capital Exchange™, research, conferences, webcasts, and other human capital programs.

Full Bio