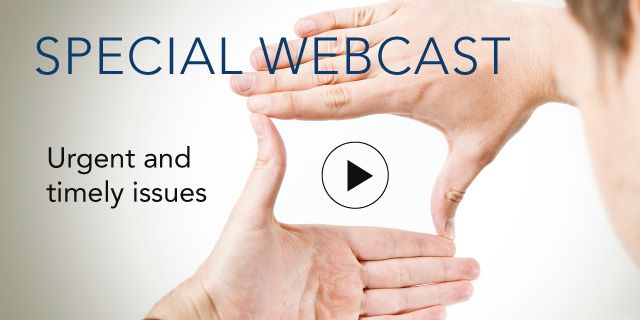 Beyond Law & Compliance: Achieving a Civil Workplace

20 November, 2013 | (01 hr)
Sign In to access this Webcast
Your organization is striving to improve productivity and other outcomes, and your employees are a critical component of your organization's success. Have you considered how moving beyond a purely legal compliance culture to a civil workplace that focuses on your organization's values, cultural change, and employee behaviors can affect your business results and reduce legal risk?
Organizational leaders must recognize that certain workplace behaviors — such as building respectful, civil and inclusive workplaces that minimize a wide range of hazards, including noncompliance — contribute to and drive desired business results.
This webcast will focus on moving beyond a purely legal compliance corporate culture to a civil, respectful, and inclusive workplace that focuses on organizational values, behavior and cultural change.
Who should attend:
Executives with responsibilities or interests in Corporate Leadership, Human Resources, Diversity, General Counsel, or Compliance.
Speakers
Stephen M. Paskoff, Esq.
President
ELI®

Stephen M. Paskoff, Esq., is the founder, president and CEO of ELI®, a training company that teaches professional workplace conduct, helping clients translate their values into behaviors, increase employee contribution, build respectful and...Full Bio

Steve Bucherati
former Chief Diversity Officer
The Coca-Cola Company

Steve brings more than 30 years of Human Resources and leadership experience to his current role as Managing Partner of Bucherati & Hildebrand, LLC, including more than a decade as the Global Chief Diversity Officer for The Coca-Cola Company, working across more than 200 countries. Steve poss...Full Bio

Sophia A. Muirhead (Moderator)
Senior Vice President and Chief Legal Officer
The Conference Board

Sophia A. Muirhead is senior vice president, general counsel, and corporate secretary of The Conference Board. She is the first general counsel in its 100+-year history. She is also the program director for the Senior International Attorneys Council.

Muirhead is a member of The Conference...Full Bio