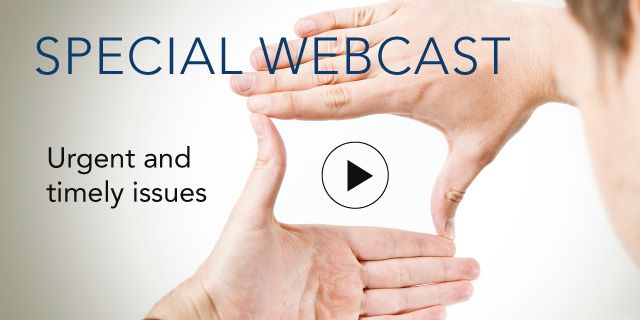 Human Rights Risk Reporting and Assurance
How Do We Know We are Getting it Right?
17 October, 2013 | (01 hr)
Sign In to access this Webcast
If this webcast was of interest you might want to check out our recent report on "What is Human Rights Risk" by clicking HERE
We will hear about the current efforts to standardise and report on Human Rights. As important, we will discuss the value of and the scope of assurance that can be provided to Senior Management and Boards of Directors.
The webcast will address the following questions:
What is Human Rights Risk and how do our corporate policies address this risk?
Can a company's internal audit team or its external auditor provide adequate assurance on Human Rights protections?
How can anyone provide assurance on processes that involve a large, complex supply chain with many external partners?
How can managing Human Rights Risk be embedded in operations?
Who should attend Executives from: Audit, Compliance, Legal, Operations, Risk, HR, Procurement, Supply Chain, Ethics, Sustainability, Finance

Speakers
John F. Sherman, III
General Counsel and Senior Advisor
Shift

John is General Counsel and Senior Adviser to Shift, an independent, nonprofit 501(c)(3) organization that is chaired by Harvard Kennedy School Professor John Ruggie, t...Full Bio

Bill Mellon
Partner
WeizerMazars

Bill has over 25 years experience providing Governance Risk and Compliance (GRC) consulting services to a variety of industries including insurance, financial services, Not-for Profit, Colleges and Universities and manufacturing organizations. These services have included external and inter...Full Bio

Ellen Hexter (Moderator)
Program Director, Chief Audit Executives Council, IT Audit Leaders Council, Mergers & Acquisitions Executives Council, Strategic Risk Management Council, and Strategic Risk Management Council (Temp)
The Conference Board

Ellen Hexter is senior advisor, enterprise risk management at The Conference Board. She has served on the faculty of The Conference Board Directors' Institute and worked with boards to provide director training in risk management practices and the role of the board in ERM oversight.

Full Bio