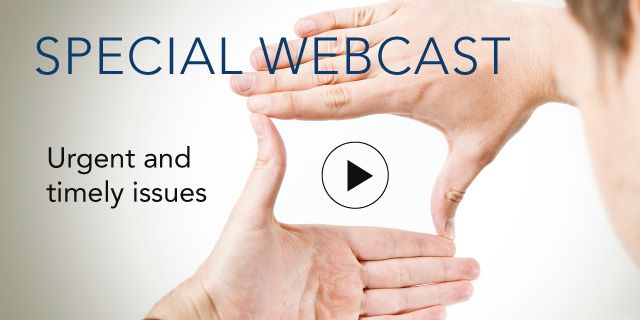 Book Discussion: Employment and Work

10 September, 2013 | (01 hr)
Sign In to access this Webcast
Join us for our September Book Discussion web cast, featuring Susanne M. Bruyère, Ph.D., CRC, Director of the Employment and Disability Institute, and Associate Dean of Outreach at the Cornell University ILR (Industrial and Labor Relations) School, and co-author Linda Barrington, Ph.D., Executive Director of Cornell's Institute for Compensation Studies, as they discusses their latest book, Employment and Work – Disability Key Issues and Future Directions.

Employment and Work outlines the key workplace issues surrounding employment of people with disabilities. Susanne and Linda will discuss the context, challenges, and opportunities for employers seeking to improve their employee diversity and workplace effectiveness. Employment and Work is part of an 8 volume series released by The SAGE Reference Series on Disability.

Peter Linkow, Senior Fellow, Human Capital at The Conference Board, and author of The Conference Board's report, Leveling the Playing Field: Attracting, engaging, and advancing people with disabilities, will moderate this discussion important to anyone who wishes to explore major workplace issues surrounding disability and find guidance on new directions, trends, and contemporary resources in the field.
Audience: Human Capital professionals charged with diversity & inclusion, talent management, strategic workforce planning, workforce readiness, leadership development, employee engagement, strategic human resources, or human capital analytics would benefit from this webcast.
Speakers
Linda Barrington, Ph.D.
Executive Director, Institute for Compensation Studies
ILR School at Cornell University

Linda Barrington, Ph.D. is Executive Director of the Institute for Compensation Studies in the ILR School at Cornell University.

Dr. Barrington has published academic articles in the Review of Economics and Statistics, the Journal of Economic History, and the Histori...Full Bio

Susanne M. Bruyère, Ph.D., CRC
Director, K. Lisa Yang and Hock E. Tan Institute on Employment and Disability and Professor of Disability Studies
Cornell University ILR School

Susanne M. Bruyère, Ph.D., CRC, is currently Professor of Disability Studies and the Director of the Yang-Tan Institute on Employment and Disability, ILR School, Ithaca, N.Y. Susanne has served as Project Director and Co-Principal Investigator of numerous federally-sponsored research, diss...Full Bio

Peter Linkow (Moderator)
Senior Fellow, Human Capital
The Conference Board

Peter Linkow is a Senior Fellow, Human Capital at The Conference Board. In this role, Peter supports the Human Capital Practice which includes The Conference Board Human Capital Exchange™, research, conferences, webcasts and programs in a broad spectrum of hum...Full Bio