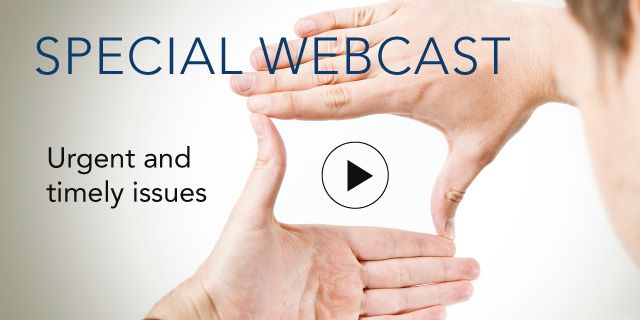 Diversifying the Workplace by Employing People with Disabilities
An Employer Discussion
18 July, 2013 | (01 hr)
Sign In to access this Webcast
This webcast will be a dynamic discussion between two employers successfully recruiting and onboarding employees with disabilities. With facilitation by the President of the National Organization on Disability (NOD), Toys"R"Us working with NOD's Bridges to Business project, and the Fifth Third Bank working with the Project Search model bring vastly different approaches with a broad look at the available intelligence on the topic by The Conference Board.
Join us for this informative look at best practices in the final frontier of diversity and inclusion in corporate America.
Audience: This webcast will be informative for hiring managers, diversity and inclusion leaders, and those interested in organizational effectiveness.
This activity has been submitted to the HR Certification Institute for review.
Speakers
Peter Linkow
Senior Fellow, Human Capital
The Conference Board

Peter Linkow is a Senior Fellow, Human Capital at The Conference Board. In this role, Peter supports the Human Capital Practice which includes The Conference Board Human Capital Exchange™, research, conferences, webcasts and programs in a broad spectrum of hum...Full Bio

Jeff Kellan
Vice President, Distribution Operations
Toys"R"Us, Inc.

As Vice President, Distribution Operations, Toys"R"Us, Inc., Jeff Kellan is responsible for overseeing the retail and e-commerce distribution center network, where merchandise from Toys"R"Us, Inc. manufacturers is processed for delivery to stores and e-commerce guests acro...Full Bio

Mitch Morgan
Program Manager
Fifth Third Bank

Mr. Morgan was named Assistant Vice President, Leadership Development Program Manager in 2007. He is responsible for the day-to-day operations of three Project SEARCH programs at Fifth Third Bank located in Madisonville and Cincinnati, Ohio and Grand Rapids, Michigan. Mr. Morgan also ...Full Bio

Carol Glazer (Moderator)
President
National Organization on Disability

Carol Glazer joined the National Organization on Disability (NOD) in July 2006 as the Executive Director of its National EmployAbility Partnership. She became NOD's President in October, 2008. Under her leadership, NOD has developed important new relationships with the US Army, leading empl...Full Bio