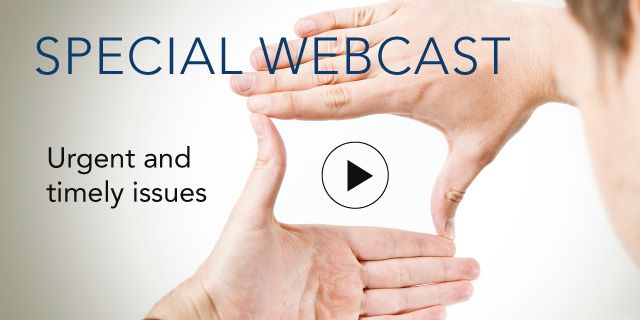 Rise of the Chief Risk & Reputation Officer: Myth or Reality?

16 July, 2013 | (01 hr)
Sign In to access this Webcast
For the past twenty years, global companies have experienced the growth of many chiefs-- chief ethics and compliance officers, chief audit officers, chief information security officers, chief regulatory officers, chief corporate responsibility officers, chief sustainability officers, etc.
In an era of increasingly complex global risks and threats to reputation and the bottom line, there are many such "chiefs" but few truly empowered C-suite level executives dealing with this vast array of governance-related issues. Companies have also suffered from functional fatigue in that too many functions are often duplicating efforts, working within silos and wasting resources. A truly empowered and supported chief risk and reputation officer may be the answer: someone who is a leader, reports to the CEO and board, oversees a portfolio of governance-related functions, and helps to tie them all to the company strategy.
Webcast speakers Andrea Bonime-Blanc, CEO of GEC Risk Advisory LLC and Chair Emeritus of the Ethics & Compliance Officer Association, and John (Jack) Lenzi, VP Corporate Responsibility & Chief Ethics Officer of ITT, will explore the feasibility and reality of this development.
In viewing, participants will:
Learn more about the idea of a chief risk & reputation officer
Hear about how several companies are already developing such a role
Understand the pros and cons of such an umbrella role and structure
Glean the business case for such a development
Audience: chief ethics and compliance officers, chief audit officers, chief legal officers, chief risk officers, chief sustainability officers, chief corporate responsibility officers, chief operating and administrative officers, chief human resources officers, others similarly situated
Speakers
Andrea Bonime-Blanc, JD, PhD
Chief Executive Officer
GEC Risk Advisory LLC
TCB Research KBI Report Author
Emerging Practices in Cyber Risk Governance

Dr. Andrea Bonime-Blanc is the lead cyber-risk governance author and researcher for The Conference Board. She is the chief executive officer of GEC Risk Advisory LLC, the global governance, risk, ethics, compliance, reputation, and crisis advisory firm, serving executives, boards, investors, and ...Full Bio

John (Jack) Lenzi
VP Corporate Responsibility & Chief Ethics Officer
ITT Corporation

John C. (Jack) Lenzi serves as Vice President, Corporate Responsibility for ITT Corporation and is based in the headquarters offices in White Plains, New York. Accountable to the CEO and Board of Directors, Mr. Lenzi has extensive experience leading and working within large-scale, globally disper...Full Bio