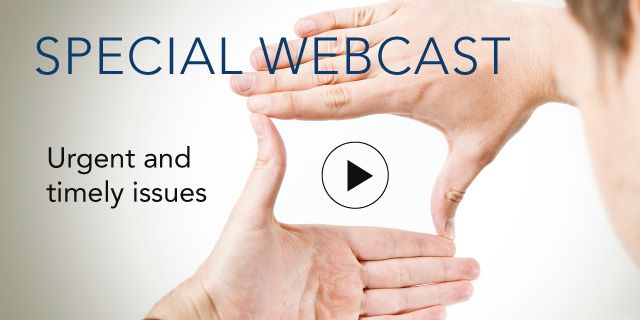 Building Scenarios to Understand Future Business Environments

25 June, 2013 | (01 hr)
Sign In to access this Webcast
Amid the uncertainty in the wake of the global economic and financial crisis, how can companies look beyond their day-to-day challenges to map sustainable growth strategies?
Often, executives manage with an operational mindset and a short-term horizon. The potential impact of medium term changes is much harder to gauge, especially when disruptive forces reinforce each other four to six years out. Scenario building is a useful tool to guide executives in making strategic decisions by sketching plausible future states of a firm's business environment.
During this webcast we will look at:
Understanding the key steps to be taken in scenario planning, including outlining the drivers, the "givens", the barriers and uncertainties
Getting a gist of The Conference Board's key knowledge areas including global demand, innovation and energy
Learning from practical examples from The Conference Board and SAMI Consulting programs
Sharing thoughts and ideas about best practices.
Who should attend
Executives from strategic planning, finance and marketing, or any other department involved in strategy building and forecasting
Speakers
Desirée van Welsum
Economist, Program Lead Business Scenarios
The Conference Board

Desirée van Welsum is an economist, managing The Conference Board Business Scenario Program. She has over 10 years of experience in applied economic research and policy analysis on private and public sectors in the economy. Prior to joining The Conference Board, she worked at the OECD, the...Full Bio

John Reynolds
Executive and Director
SAMI Consulting

John Reynolds has wide experience at Director/Board level in Government Departments and Agencies. In 1998 he was asked to set up the Future Unit, which generated influential reports and established future thinking across Whitehall. He also invented the unique creativity centre futurefocus@d...Full Bio

Colin Fletcher
Fellow
SAMI Consulting

After holding research and lecturing posts at the Universities of Exeter and Cambridge, Colin worked first with Economic Consultants Ltd and then with Peat Marwick Mitchell (now KPMG) on a variety of strategy and marketing assignments and on various project planning, development an...Full Bio

Bart van Ark (Moderator)
Senior Advisor
The Conference Board

Bart van Ark is a Senior Advisor of the Economy, Strategy and Finance (ESF) Center at The Conference Board. From 2008 until September 2020 he was Chief Economist and Head ...Full Bio