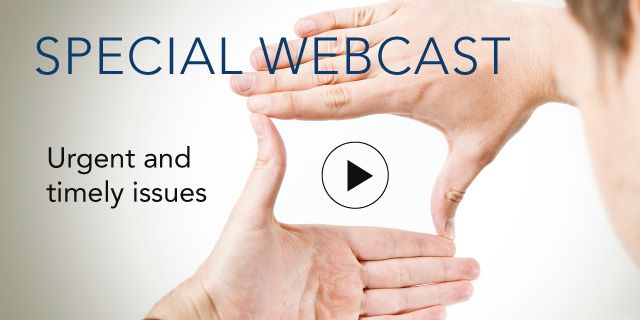 Big Data and Proving the Business Value of Health

06 June, 2013 | (01 hr)
Sign In to access this Webcast
Today's employers have access to more data than ever. But new approaches are required to understand the data in a way that reflects the full range of health and productivity approaches necessary to make the business case for health improvement.

Please join us for a free 60-minute webcast, where industry leaders will highlight data management strategies. We will cover new data sources available to employers, case studies from companies who are leading the way in population health data, and new offerings to help you understand—and act on—your organization's data.
In viewing, participants will:
Have a better understanding of the business-relevant health outcomes and how to measure their impact on performance
Learn how leading companies are using Big Data to identify key drivers and manage workforce health at the population level to achieve broader business goals
Be able to demonstrate the business value of their programs and to report metrics in business terms to guide program development and investment.
Audience: VP / Directors of: Benefits, HR, Total Rewards, Compensation, Health and Wellness
Speakers
Thomas Parry, PhD
President
Integrated Benefits Institute

Dr. Thomas Parry is President and Chief Executive Officer of the Integrated Benefits Institute.
He directs IBI's activities and stewards its research agenda. Before co-founding IBI, he served 11 years as Research Director at the California Workers' Compensation Institute. His res...Full Bio

Marcia Wright, PhD
Senior Director Integrated Health
Pfizer Solution

Marcia Wright, PharmD is a Senior Director, Medical Affairs in Integrated Health, a Pfizer solution with responsibility for providing field-based medical support on a national basis. Marcia joined Pfizer in October 1999 as a Clinical Education Consultant with responsibility for providing ed...Full Bio

Gregg Mauro (Moderator)
Program Director, Employee Health Care Conferences and Resilience Conference
The Conference Board

Gregg Mauro joined The Conference Board in 1998 as a portfolio manager and program director. He founded and chaired The Conference Board's Employee Health Care Council, Tax Executives Council, Working Groups on Consumer Driven Health Care, Employee Wellness and Human Capital Management. Sin...Full Bio