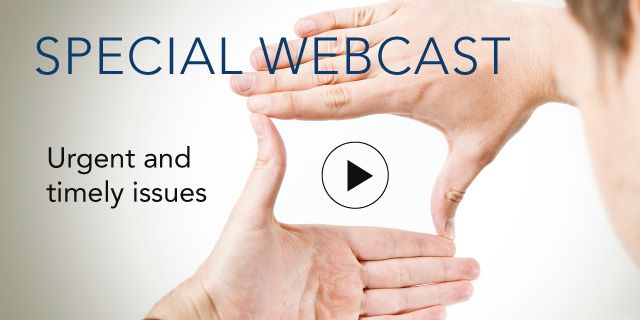 The Story of Screening
Trends & Development
05 June, 2013 | (01 hr)
Sign In to access this Webcast
Screening is the filtering process used to either identify certain securities to exclude or to find those that should be included in investors' portfolios based on social and/or environmental criteria. Screening has evolved as a tool for investors to manage risk and engage with companies that fall short in areas such as strong employee relations, community involvement, excellent environmental policies and practices, and human rights. Positive and negative challenges come with screening.
Tune in to this webcast to learn the following:
Why was screening created?
What goes into screening tools?
What is the state of screening in Europe and why it is different than what is taking place in the U.S.?
How does screening benefit the investor?
Audience: Chief ethics officers/chief compliance officers, chief investment officers, chief risk officers, chief financial officers, directors of corporate governance, general counsel, asset managers, activist managers, pension funds, screening firms, investment advisory, research firms, consultants
Speakers
Ulrika Hasselgren
CEO
Ethix SRI Advisors

Ulrika Hasselgren is founding partner and CEO of Ethix SRI Advisors. Mrs. Hasselgren advises institutional investors across Europe and in the U.S. in the fields of sustainable and responsible investment since 1999. In 2000, she helped Sweden's state pension fund AP7 to develop their policy ...Full Bio

Ken Locklin
Managing Director
Impax Asset Management (US) LLC

Ken is a Managing Director for Impax Asset Management (US) LLC. He is the US Policy Advisor, responsible for supporting the investment team and helping build Impax's business in North America. Ken has 30 years of finance experience and a 20 year commitment to clean energy enterprise investment, d...Full Bio

Johan Elmquist
Portfolio Manager/Partner
TUNDRA FONDER AB

Johan Elmquist is equity portfolio manager and co-founder of Tundra Fonder, a fund manager specializing in emerging and frontier markets. Tundra Fonder has currently six funds, Pakistan, Russia and GEM Agri&Food, Global Frontier, Pan Asian quant fund and Nigeria and Sub-Sahara. Johan joined A...Full Bio

Kimberly Byer-Clark (Moderator)
Program Director
The Conference Board

Kimberly Byer-Clark is a program director with The Conference Board. She develops and produces workshops and conferences in the Corporate Leadership practice. Kim is also responsible for content development, speaker selection and recruitment, sponsorship sales, and webcast production. From 2009-2...Full Bio