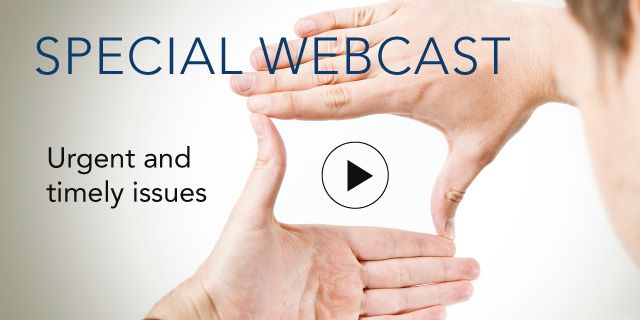 Book Discussion: Mastering Turbulence

07 June, 2013 | (01 hr)
Sign In to access this Webcast
Rapid and disruptive change increasingly threatens the adaptive capacity of many organizations, along with the individuals and teams leading them. In order to deal with these challenges, organizations need to develop the necessary capabilities to build and sustain both high agility and resiliency. Those that do so effectively use their adaptiveness for competitive advantage and superior business performance.
Join us for our June Book Discussion web cast, featuring Joseph E. McCann, Ph.D., Principal Researcher, Human Capital at The Conference Board and John W. Selsky, Ph.D., management researcher and adviser in strategic management, organization design and development, and corporate social responsibility, as they discuss their latest book, Mastering Turbulence: The Essential Capabilities of Agile and Resilient Individuals, Teams and Organizations. In this web cast, Joseph and John will describe five basic capabilities needed to build both high agility and resiliency (AR) within your organization.
Edward H. Betof, Ed. D., Senior Fellow, Human Capital at The Conference Board, will moderate this web cast, which will be relevant to any business leader who seeks strategies for creating high AR that can be used to master turbulent environments for competitive advantage and sustained performance.
Audience: Human Capital professionals charged with talent management, leadership development, strategic human resources, strategic workforce planning, workforce readiness, diversity & inclusion, employee engagement or human capital analytics would benefit from this webcast.
Speakers
Joseph E. McCann, Ph.D.
Distinguished Principal Research Fellow
The Conference Board

Joseph McCann is a Distinguished Principal Research Fellow at The Conference Board and an internationally acknowledged scholar, consultant, and author of many books and articles on leadership development, organization design and strategic change, knowledge management, mergers & acquisitions, ...Full Bio

John W. Selsky, Ph.D.
Management Researcher, Strategic Management and Organization Design

John W. Selsky is a management researcher and adviser in strategic management, organization design and development, and corporate social responsibility. He has held academic positions at University of Melbourne (Australia), Monash University (Australia), University of Otago (New Zealand) and Univ...Full Bio

Edward H. Betof, Ed.D. (Moderator)
Senior Fellow, Human Capital and Program Director
The Conference Board

Edward H. Betof, Ed. D. is a Senior Fellow in Human Capital at The Conference Board. He is the President, Betof Associates LLC and also serves an adjunct executive and executive team coach for the Center for Creative Leadership. Ed specializes in executive and leadership development, executive an...Full Bio