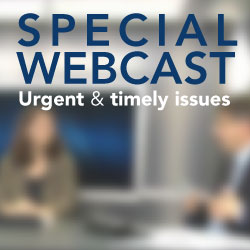 Special Webcast
Human Rights Risk: A Critical Business Imperative - Part I
28 May, 2013 | (01 hr)
Sign In to access this Webcast
Join us for this 2 Part webcast as we examine the area of human rights risk and the possible wide-ranging impacts on corporations. While many companies think of human rights in terms of compliance or ethics, it is a risk that is much broader. We will talk to experts from NGOs who have been active in this area for some time and with company representatives who are taking action to help mitigate human rights risk.
In Part 1 of this Webcast we will speak with leading NGOs in the area of human rights and business to learn about global principles for human rights, the roles and obligations of countries and companies and how some businesses are beginning to incorporate human rights issues into how they operate.
Key questions addressed:
What, exactly is human rights risk?
Why is it gaining more attention from NGOs, the public and governments?
What are the UN Guiding Principles on Human Rights and Business and how are companies incorporating them?
Who should attend
Executives from: Risk, HR, Procurement, Supply Chain, Audit, Compliance, Legal, Operations, Ethics, Sustainability, Finance, Corporate Social Responsibility.
TO ALREADY REGISTER FOR PART II ALSO
,
CLICK HERE
Speakers
Rachel Davis
Managing Director
Shift

Rachel is an Australian attorney with extensive experience in human rights. She served for five years as senior legal advisor to Professor John Ruggie, the former Special Representative of the UN Secretary-General for Business and Human Rights, helping develop the UN Guiding Principles on Busines...Full Bio

John Morrison
Executive Director
Institute for Human Rights and Business

John Morrison has extensive experience working with leading companies on issues of corporate responsibility and human rights. He worked previously with The Body Shop International plc and led the Business Leaders Initiative on Human Rights from 2003 to 2009. He has also worked for a number ...Full Bio

Ellen Hexter (Moderator)
Program Director
The Conference Board

Ellen Hexter is senior advisor, enterprise risk management at The Conference Board. She has served on the faculty of The Conference Board Directors' Institute and worked with boards to provide director training in risk management practices and the role of the board in ERM oversight.

Full Bio