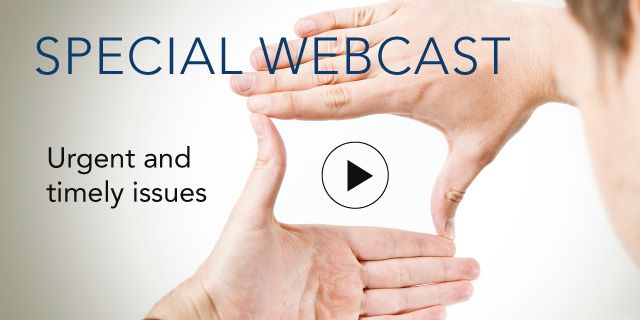 Case Studies in Making Ethics Policies Work
Anti-Bribery and Corruption Laws and Other Transnational Considerations
17 May, 2013 | (01 hr)
Sign In to access this Webcast
Ethics policies and Codes of Conduct need to address a host of important compliance issues on a transnational basis. Among these issues are the impact of expanded anti-bribery and corruption (ABAC) laws; laws addressing financial matters, such as money-laundering and securities trading; and laws implementing international sanctions. This webinar focuses on: (1) the key ethics issues in this area and the need for a cross-border view; (2) how to use ethics policies and codes of conduct to mitigate risk; and (3) how to establish an ethical culture within a global enterprise. Case studies will be used to illustrate the major policy/legal issues.
Topics to be covered:
Key ethics issues and their transnational reach:
ABAC developments, including the recent U.K. Bribery Act which expands cover to private transactions and has extra-territorial application;
The growing international scope of U.S. Foreign Corrupt Practices Act enforcement;
Continued efforts to regulate money laundering and insider dealing; and
The growth of export control as a significant compliance issue.
Managing and investigating ethics and compliance issues:
Whistle-blowing;
Building an ethical/compliance regime, including addressing data protection issues; and
Linking ethics to professional development.
Establishing a global ethical culture and the role of the Governance Professional, the Corporate Secretary and the Secretary to the Board.
Who should attend:
Chairmen, Executive Directors, CEOs, Members of Boards of Directors, Chief Legal Counsel, Corporate Secretaries, Corporate Governance Officers, Secretaries to Boards of Directors, Risk Officers, Human Relations Executives, Investor Relations Executives, Sustainability Executives, Institutional Investors.
Pre-qualification to attend the webcast:
To obtain the most value from the session, participants should be familiar with the implementation and enforcement of their company's ethics policies and codes of conduct.
Speakers
Elizabeth Oberle-Robertson
Partner
Jones Day

Ms. Robertson began her career in Jones Day's New York Office in 1988, transferring to the Firm's London Office in 1990. In London, she combines her original New York bar qualification with qualification as an English solicitor. Her practice focuses on technology transactions, particu...Full Bio

Harriet Territ
Partner
Jones Day

Harriet Territt's practice is centered on banking and financial litigation, with a focus on disputes relating to complex and innovative financial products such as synthetic CDOs and credit derivatives. She also counsels and acts in disputes arising out of fund management disputes, syndicated faci...Full Bio

Dr. Carolyn Kay Brancato (Moderator)
Co-Council Director, Corporate Governance Council
The Conference Board
The Conference Board

Dr. Carolyn Kay Brancato has more than 30 years experience in various aspects of corporate governance, corporate finance and regulatory economics. Her work is globally recognized in such fields as: tracking the growth of global institutional investors; how equity market short-termism is dis...Full Bio