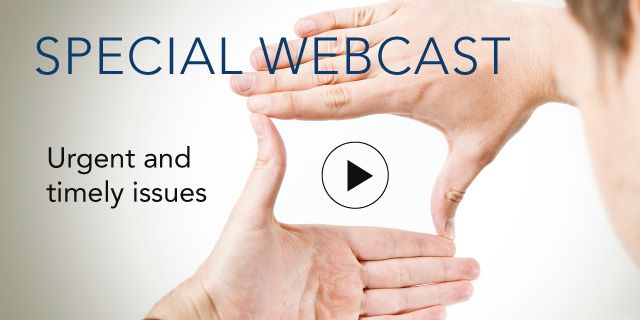 Emerging Issues in Product Regulation
Product Safety, Market Surveillance and Nanomaterials
16 May, 2013 | (01 hr)
Sign In to access this Webcast
This webcast will address the following:
Recent developments in product regulation, including proposed regulations and enforcement.
New EU Product Safety and Market Surveillance regimes: the Commission proposes major changes, including country of origin labeling, technical documentation and new traceability requirements for consumer products. The Commission also wants the power to impose permanent and directly applicable restrictions on products.
Nanomaterials: the webcast will review the current status of the work of the Commission and ECHA on the regulation of nanomaterials under REACH. It will also discuss the Biocide Regulation and Medical Devices Regulation.
REACH: the webcast will summarize the Commission's 2012 review of REACH with a focus on enforcement and expectations for the future, including on Substances of Very High Concern.
Who should attend
All persons involved in product manufacturing:
EHS managers
Product Stewards
Quality Control Managers
Marketing Managers
Speakers
Mike Penman
Founder and Partner
Penman Consulting BVBA (formerly with ExxonMobil)

Mike Penman, has over 30 years' experience in managing toxicology, regulatory affairs and information technology within major companies (ICI 1976 – 1997; ExxonMobil 1997 – 2007) and associated trade associations. Initially laboratory based working on alternatives to long-term ca...Full Bio

Nicolas Herbatschek
Associate
Hunton & Williams

Nicolas has broad experience in advising multinational companies on regulatory, risk and liability issues. He has particular experience in EU regulatory law, including chemical regulation, electronic regulation, energy and life science.

Nicolas completed his studies at the University of V...Full Bio

Lucas Bergkamp (Moderator)
Council Director, Environment & Regulatory Affairs Council
The Conference Board
Partner
Hunton & Williams

Lucas Bergkamp is Director of the Environment & Product Stewardship Council for The Conference Board. In this role, he works with members to identify opportunities to share experience and expertise relevant to managing environmental and product stewardship challenges.

He is a Partner ...Full Bio