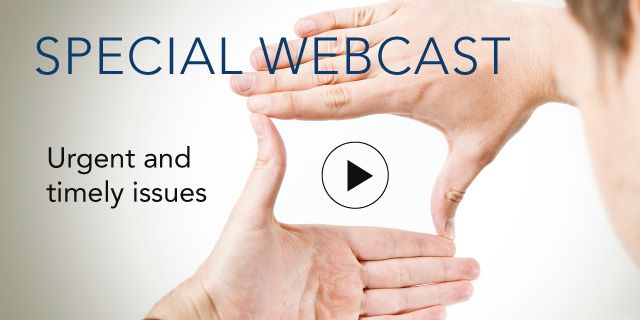 Book Discussion: Management Reset

10 May, 2013 | (01 hr)
Sign In to access this Webcast
To view the on demand recording of this webcast, please make sure to login to our website by using the sign in button on the right hand side of this page. You can also use this button to create a free account, which will grant you access to our entire book discussion series!
In today's less predictable business world, organizations remain under intense pressure to meet new performance demands. According to the book, Management Reset: Organizing for Sustainable Effectiveness, corporations need to make fundamental changes to their strategy, organization design, and leadership methods in order to achieve sustained success.
Management Reset offers readers new management practices that help business leaders "reset" their current approaches to management, and transform their management models to an agile one that is sustainably effective.
Join Edward E. Lawler III, Distinguished Professor of Business and Director of the Center for Effective Organizations at the USC Marshall School of Business, and Dr. Christopher G. Worley, Senior Research Scientist at CEO, co-authors of Management Reset, as they discuss their recent book and provide insights that business leaders and Human Capital practitioners can apply to achieve "sustainable effectiveness." Julian Kaufmann, Senior Fellow, Human Capital at The Conference Board will moderate this important discussion for anyone who wishes to transform their existing management model to accomplish positive, long-term financial, social, and ecological results.
Audience: Human Capital professionals charged with leadership development, strategic workforce planning, workforce readiness, diversity & inclusion, talent management, strategic human resources, employee engagement, or human capital analytics would benefit from this webcast.
Speakers
Edward E. Lawler III
Distinguished Professor of Business and Director of the Center for Effective Organizations
USC Marshall School of Business

Edward E. Lawler III is Distinguished Professor of Business and Director of the Center for Effective Organizations in the Marshall School of Business at the University of Southern California. He joined USC in 1978 and during 1979, founded and became director of the University's Center for Ef...Full Bio

Christopher G. Worley, Ph.D.
Senior Research Scientist
Center for Effective Organizations

Christopher G. Worley is a Senior Research Scientist at the Center for Effective Organizations at University of Southern California, and Professor of Management at Pepperdine University's Graziadio School of Business and Management. He has authored five editions of Organization Development and Ch...Full Bio

Julian Kaufmann (Moderator)
Senior Fellow, Human Capital
The Conference Board

Julian Kaufmann is a Senior Fellow, Human Capital at The Conference Board. In this role, Kaufmann supports the Human Capital Practice which includes The Conference Board Human Capital Exchange™, research, conferences, webcasts and programs in a broad spectrum of hu...Full Bio