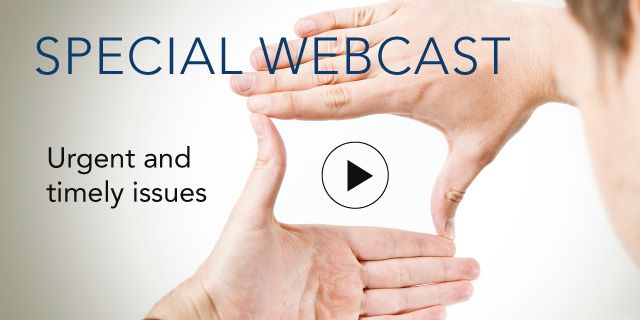 Improving the Employment Outcomes for People with Disabilities

30 April, 2013 | (01 hr)
Sign In to access this Webcast
Join Mary Wright, Director at The Conference Board, as she moderates a panel discussion with Dana Foote, Audit Partner, KPMG; Mark Wafer, Franchise Owner, Tim Hortons; and Joe Dale, Principal, Vision Consulting.

Every organization is looking to improve talent and enhance operating success. Using a recently released report from The Conference Board, Leveling the Playing Field – Attracting, Engaging and Advancing People with Disabilities, as an outline, this webcast will explore how making changes to improve opportunities for those with disabilities will also improve employee experience overall, and contribute positively to company performance. We will also review a measurement structure that can be used in most organizations and discuss the challenge of self-disclosure. In addition, several examples of employer best practices in this area will be discussed.
Webcast participants will also review some of the findings from the recent report, Rethinking DisAbility in the Private Sector, released by the Panel on Labour Market Opportunities for People with Disabilities.

In viewing, participants will:
• Explore how people with disabilities fits into the diversity conversation
• Learn the building blocks of a successful business case
• Explore the elements of organizational readiness
• Gain an appreciation of self-disclosure issues
• Identify strategies for moving the issue forward
Audience: Human Capital professionals charged with diversity & inclusion, talent management, strategic workforce planning, workforce readiness, leadership development, employee engagement, strategic human resources, or human capital analytics would benefit from this webcast.
Speakers
Dana Foote
Audit Partner
KPMG

Dana is an Audit Partner in KPMG's National office in New York City, NY. She has 17 years of experience performing financial statement audit services and providing technical accounting support to audit engagement teams.

Professional and Industry Experience<...Full Bio

Mark Wafer
Franchise Owner
Tim Hortons

Mark Wafer is the owner of six Tim Hortons restaurants located in Toronto, Ontario. In the past 18 years Mark and his wife Valarie have hired 85 people with disabilities in meaningful and competitively paid positions and currently employ 36 people with disabilities in all aspects of the business ...Full Bio

Joe Dale
Principal
Vision Consulting

Joe Dale has worked in the disability field for over 35 years and has spent much of that time working on various issues related to helping people who have a disability get jobs. Currently, Joe is the principal of Vision Consulting, providing training and consulting services related to disability ...Full Bio

Mary Wright (Moderator)
Director, Workforce Readiness
The Conference Board

Mary Wright is director of The Conference Board Workforce Readiness Initiative and program director for the Business and Education Council. Her work focuses on how business engages in preparing the twenty-first-century workforce, including how to improve employment prospects for people with disab...Full Bio