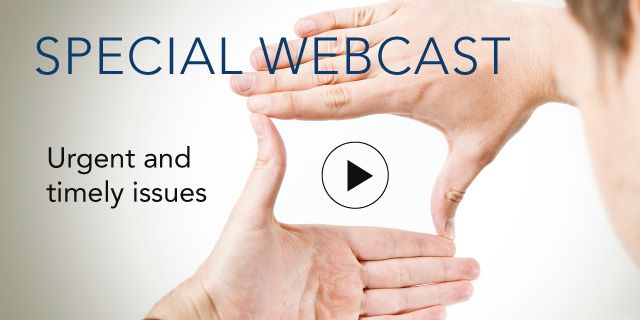 The Culture of Ethics
What are the internal issues?
02 May, 2013 | (01 hr)
Sign In to access this Webcast
So you think you have established a solid culture of ethics within your organization but are now facing internal issues with your program. Oftentimes it is in the best interest of companies to assess their current standards to identify ways in which their standards could be made more meaningful and effective, such as how to respond when employees report misconduct, infusing non-retaliation into the workplace, implementing escalation criteria, and how to demonstrate procedural justice.
During this webcast, hear from experts on this hot-button issue and how to address these internal issues head on.
Audience: Chief ethics officers/chief compliance officers, chief investment officers, chief risk officers, chief financial officers, directors of corporate governance, general counsels, screening firms, and consultants
Speakers
Seth Cohen
Director, Global Ethics & Compliance
Avaya Inc.

Seth Cohen is the Director of Global Ethics & Compliance at Avaya Inc. He has been with Avaya since May 2012. Seth's responsibilities include the day-to-day management of the company's global ethics and compliance program, with a particular focus on ethics and complian...Full Bio

Jeremy Wilson
Controller, Cisco Ethics Office
Cisco Systems, Inc.

Jeremy Wilson is the Controller of the award winning Ethics Program at Cisco Systems, Inc. In this capacity he oversees the strategy and implementation of Cisco's Ethics Program including adherence to and enforcement of the Cisco Code of Business Conduct. The Cisco was recently awarde...Full Bio

Kimberly Byer-Clark (Moderator)
Program Director
The Conference Board

Kimberly Byer-Clark is a program director with The Conference Board. She develops and produces workshops and conferences in the Corporate Leadership practice. Kim is also responsible for content development, speaker selection and recruitment, sponsorship sales, and webcast production. From 2009-2...Full Bio