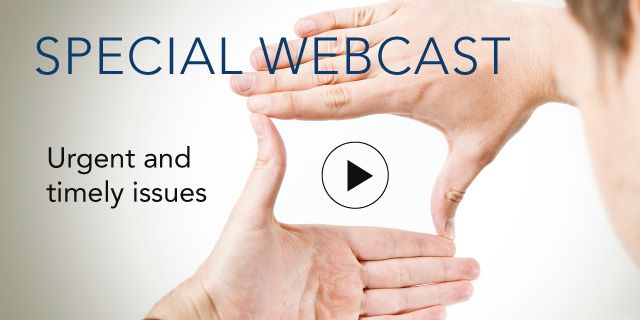 Your 2013 Must-Do List: Competitive Intelligence Professionals

18 March, 2013 | (01 hr)
Sign In to access this Webcast
In our dynamic global economy, powerful new competition can emerge rapidly, often from unexpected sources. Those companies that thrive in this environment often have superior "radar" that detects and evaluates the nature of competitive threats and provides the information needed to effectively manage these threats. During this webcast, competitive intelligence leaders from two global companies will share what they are going to do in 2013 to help their organizations maintain a competitive edge.
In viewing, participants will:
Gain new insights to challenge and enhance their own 2013 priorities
Have the opportunity to ask their own burning questions of these competitive intelligence experts
This webcast is part of the series, Your 2013 "Must-Do" List: Shaping the Future. As expectations for performance grow and resources continue to be tight, it's more important than ever to identify those "critical few" actions that drive the best results. In this new series of webcasts, we'll hear from leaders on the front lines about the issues and opportunities they will address in 2013–why they chose what they did and how the list is different from the past. By participating in the webcast, participants will gain new insights and ideas for their own 2013 lists.
Audience: Competitive intelligence professionals, strategic planners, marketing, communications, information research and management professionals, knowledge management, market research, and brand leaders
Speakers
Terry J. Kerby
Director of Competitive Intelligence
3M

SUMMARY

A high-energy, analytical, process improvement
focused business leader, accustomed to leading – influencing and developing WW
teams.

PROFESSIONAL
EXPERIENCE

...Full Bio

Michelle Settecase
Leader, Competitive Intelligence
Ernst & Young, LLP

Michelle Settecase, located in Cleveland, Ohio, has been with EY for nearly 14 years, all of it in competitive intelligence. She's written multiple juried articles on competitive intelligence for professional and academic publications on topics covering analytical techniques, sourcing intelligenc...Full Bio

Tim Kindler
Competitive Intelligence, EY Knowledge
Ernst & Young LLP

Timothy J. Kindler joined Ernst & Young in November 2012 as Associate Director, Competitive Intelligence for the Americas. This follows a thirty-year career at Eastman Kodak Company, much of which was spent in Competitive Intelligence. Tim directed Corporate CI at Kodak for more t...Full Bio

Anne Greer (Moderator)
Program Director, Market Insights Council; Co-Program Director, Innovation Leadership Council, and Applied Innovation Council
The Conference Board

Anne Greer began working with The Conference Board in 2012. Along with Rita Shor, she directs the annual Innovation Master Class, designed for advanced learned among Fortune 500 executives responsible for leading innovation in their companies. She is Co-Program Director fo...Full Bio