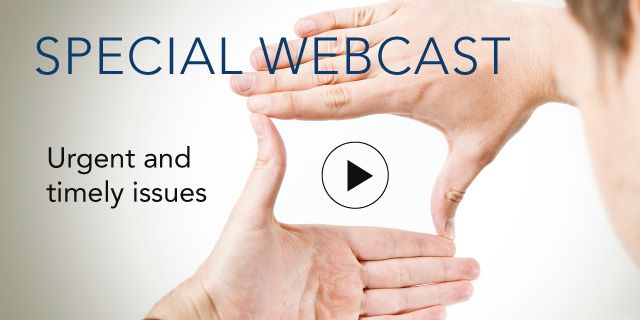 Scenario Planning as a Risk Management Tool

26 March, 2013 | (01 hr)
Sign In to access this Webcast
Join us for this webcast as our panelists discuss what scenario planning is and how it can be a useful tool for strategic development and capability building. Scenario planning provides an approach and set of tools to expose the broad strategic risks enterprises may not be paying enough attention to, as well as help in developing specific contingencies to proposed strategy. Attendees will learn some of the basic principles of scenario planning and the value it can provide in the planning process.
the key questions that will be addressed:
What are some of the key elements to consider when developing a scenario planning exercise?
Where is scenario planning best applied: at a division, department, or enterprise level?
After we've been through a scenario planning exercise, then what?
What kind of risk indicators and ongoing processes are required to ensure that companies can respond quickly and effectively as scenarios play out differently than expected?
Who should attend
ERM leaders, Strategy Executives, Business Unit leaders, Strategic Workforce Planning Executives; Managers and Executives who have a role in planning
Speakers
Matt Ranen
Program Director, Strategy Executives Council
The Conference Board

Matt Ranen is the Program Director for the Strategy Executives Council at The Conference Board. In this role, he works closely with senior leaders at many of the world's leading companies to develop and nurture peer networks and build connections to relevant research and...Full Bio

Ellen Hexter (Moderator)
Program Director, Chief Audit Executives Council, IT Audit Leaders Council, Mergers & Acquisitions Executives Council, Strategic Risk Management Council, and Strategic Risk Management Council (Temp)
The Conference Board

Ellen Hexter is senior advisor, enterprise risk management at The Conference Board. She has served on the faculty of The Conference Board Directors' Institute and worked with boards to provide director training in risk management practices and the role of the board in ERM oversight.

Full Bio