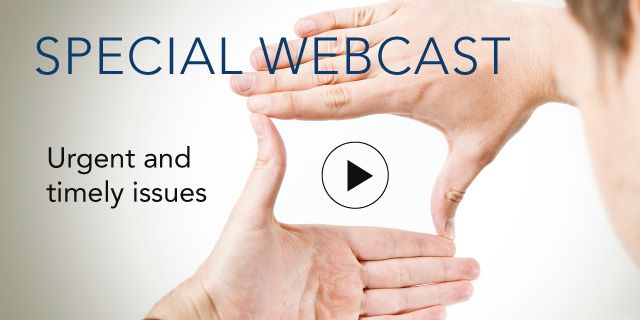 Crisis Management and Reputational Risk

23 April, 2013 | (01 hr)
Sign In to access this Webcast
Companies may work for decades to build the value of their brands and reputation, only to have that value destroyed in a matter of hours. Applying a series of concrete examples, this webcast will open with a description of what we mean by "Corporate Reputation." It will then explore the links between reputation, risk management, and the creation of shareholder value. The program will suggest detailed and pragmatic strategies to prepare for a crisis and manage its outcome during and after its occurrence. The webcast will therefore provide the essential perspectives and information all companies need to prevent - or at least to minimize – the effect of catastrophic corporate losses.
Topics to be covered:
1. Why Corporate Reputation Matters – and How to Protect Yours
Business advantages of an active program to win the esteem of public institutions, regulators, and the public.
Earning the benefit of the doubt in crisis situations where responsibility is unclear.
Burning reputation into the structure of the company – how defined corporate values can become a core business asset.
How culture determines the long-term performance of an enterprise.
2. Crisis Management and Preventing Catastrophic Declines in Shareholder Value
Review of key principles of board oversight of strategy and enterprise risk management as they relate to crisis management
Crisis prevention – establishing internal structures to identify and respond to potential risk.
Crisis preparation – how to create a plan that prepares your organization to respond long before a crisis occurs.
Crisis management and the concept of the "Golden Hour" – establishing your narrative before your antagonists takes control of the story. The necessity of taking responsibility.
Positive examples of rapid action to quell fears of a corporate collapse.
Who should attend:
Executive Directors, CEOs, Members of Boards of Directors, Chief Legal Counsel, Corporate Secretaries, Corporate Governance Officers, Secretaries to Boards of Directors, Risk Officers, Human Relations Executives, Investor Relations Executives, Institutional Investors
Speakers
Peter Firestein
Advisor - Investor Intelligence, Reputation, Governance
Global Strategic Communications, Inc.

Peter Firestein is a strategic advisor to senior corporate managements and boards across the globe. His counsel helps them build market value and sustainability by aligning strategy with the interests of investors and social stakeholders. Mr. Firestein has described original techniques for creati...Full Bio

Dr. Carolyn Kay Brancato (Moderator)
Council Director, Corporate Governance
The Conference Board

Dr. Carolyn Kay Brancato has more than 30 years experience in various aspects of corporate governance, corporate finance and regulatory economics. Her work is globally recognized in such fields as: tracking the growth of global institutional investors; how equity market short-termism is dis...Full Bio