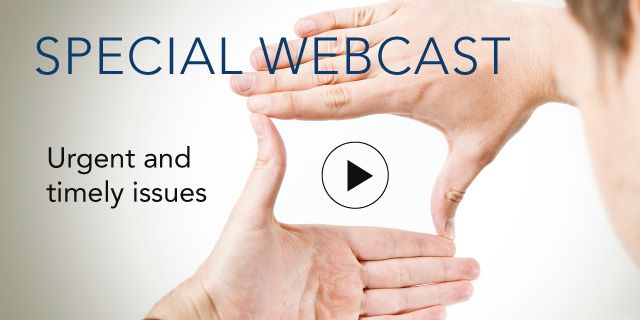 Strategic Risk Management for Boards
Putting the Focus in the Right Place
26 February, 2013 | (01 hr)
Sign In to access this Webcast
The wrong strategy is more likely to be fatal to companies than any other single risk. In the face of financial crises, corporate fraud, and increased regulation, many boards have focused more on financial and compliance risk rather than strategic risk. This webcast will provide guidance for directors and senior executives who support the board to understand and oversee strategic risk management more effectively. The panelist will discuss leading practices in strategic risk management including the use of a strategic risk assessment process and the use strategy maps for risk assessment. They will discuss examples of how companies have developed strategic risk management capabilities and processes which help organizations to link risk management with strategy setting and strategy execution.
What should the board's role be in strategic risk assessment?
How does the strategic risk fit the corporate culture?
How does the organisation integrate strategic risk management plans with strategy setting?
What are some tools to overcome communications challenges on strategic risk assessment and management?
Who should attend: Independent Directors, Corporate Secretaries, ERM leaders, Chief Legal Officers, Heads of Internal Audit, Heads of Strategy, Corporate governance executives, Senior finance and operational leaders.
Speakers
Mark L. Frigo, Ph.D.
Director of the Center for Strategy, Execution and Valuation
DePaul University

Mark L. Frigo, Ph.D., CMA, CPA, is director of the Center for Strategy, Execution and Valuation and the Strategic Risk Management Lab in the Kellstadt Graduate School of Business and Ledger & Quill Alumni Foundation Distinguished Professor at DePaul University in Chicago. He also is an adviso...Full Bio

Richard J. Anderson
Clinical Professor in the Center for Strategy, Execution and Valuation
DePaul University

Richard J. (Dick) Anderson, MBA, CPA, is a Clinical Professor in the Center for Strategy, Execution and Valuation and the Strategic Risk Management Lab at DePaul University and a retired partner of PricewaterhouseCoopers LLP. With PwC, he was a regional leader in the Financial Services Advisory p...Full Bio

Ellen Hexter (Moderator)
Program Director, Chief Audit Executives Council, IT Audit Leaders Council, Mergers & Acquisitions Executives Council, Strategic Risk Management Council, and Strategic Risk Management Council
The Conference Board

Ellen Hexter is senior advisor, enterprise risk management at The Conference Board. She has served on the faculty of The Conference Board Directors' Institute and worked with boards to provide director training in risk management practices and the role of the board in ERM oversight.

Full Bio