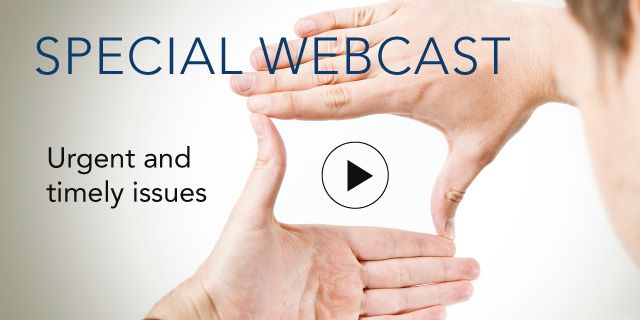 Innovation, Productivity & Growth: A Focus on Manufacturing
A joint webcast on the latest insights from The Conference Board and The McKinsey Global Institute
23 January, 2013 | (01 hr)
Sign In to access this Webcast
In the past year the debate on the role of manufacturing to help the economic revival of mature economies has intensified. As emerging economies are capturing increasingly large parts of global manufacturing activity, what is left for mature economies? Will the latter be able to retain their role at the top end of the value chain, or is everything up for grabs? And what is the best way for global companies to benefit from the shifts in manufacturing around the globe?

At the occasion of The Conference Board's annual release of its latest productivity data, the Productivity and Competitiveness team will be joined by Katy George and James Manyika (McKinsey Global Institute) to discuss some of the insights from MGI's latest study on Manufacturing the Future: The Next Era of Global Growth and Innovation. We'll discuss the most important insights for that study, and the implications for innovation, competitiveness and job creation in different part of the world. We will also discuss strategic implication for any type of business involved in the global value chain for manufacturing products.

Audience: Executives and business professionals who are interested in how manufacturing will play a key role in shaping the global economic revival.
Speakers
Vivian Chen
Senior Economist

Vivian Chen is a senior economist at The Conference Board.

She is responsible for research programs on medium and long-term growth, productivity and competitiveness. Chen leads the development of the Total Economy Database ™ the core databas...Full Bio

James Manyika
Director
McKinsey Global Institute

James Manyika is a director (senior partner) at McKinsey & Company based in San Francisco. He is also a director of the McKinsey Global Institute, McKinsey's business and economics research arm. As a leader in McKinsey's Global High-Tech and Strategy Practice, he serves several of the world&r...Full Bio

Bert Colijn
Senior Economist, Europe
The Conference Board

Bert Colijn is a senior economist that focuses on the European market. He works on the European Commission FP7 project NEUJOBS, focusing on productivity and economic growth in Europe in 2025. Besides this, he works on developing European indicators and analysis of the European economies.

...Full Bio

Katy George
Senior Partner
McKinsey & Company

During more than 22 years with McKinsey, Katy has focused on operational performance improvement, operations strategy linked to business strategy, and operating model design. She now coleads the firm's Operations Practice globally and leads the practice in North America.

Katy'...Full Bio

Bart van Ark (Moderator)
Senior Advisor
The Conference Board

Bart van Ark is a Senior Advisor of the Economy, Strategy and Finance (ESF) Center at The Conference Board. From 2008 until September 2020 he was Chief Economist and Head ...Full Bio