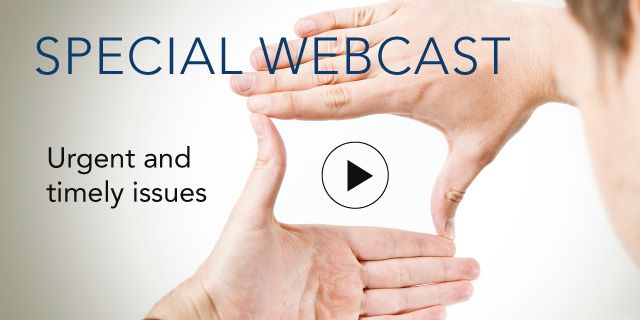 Your 2013 Must-Do List: Supplier Diversity Professionals

13 February, 2013 | (01 hr)
Sign In to access this Webcast
A proactive approach to supplier diversity can give a company competitive edge, ensuring a steady flow of new products, new ideas and new opportunities. What must organizations do in the next 12 months to enhance the way they select, motivate, and tap their supplier networks? Join this webcast to learn what some of the field's leaders are planning to do in 2013.
This webcast is part of the series, Your 2013 "Must-Do" List: Shaping the Future. As expectations for performance grow and resources continue to be tight, it's more important than ever to identify those "critical few" actions that drive the best results. In this new series of webcasts, we'll hear from leaders on the front lines about the issues and opportunities they will address in 2013–why they chose what they did and how the list is different from the past. By participating in the webcast, participants will gain new insights and ideas for their own 2013 lists.
Audience: Leaders of medium to large organizations who want to learn where supplier diversity experts are focusing, to truly tap the advantages that a diverse set of suppliers brings to a business.
Speakers
Illonka Javette Hines
Sr. Vice President, Supplier Diversity and Sustainability
Citigroup Inc.

Illonka (Javette) Hines is Senior Vice President, Supplier Diversity and Sustainability at Citi. Javette joined Citi Procurement Services in 2008. She manages and sets direction within Supplier Diversity, partners with procurement, community development, applicable business units and workforce di...Full Bio

Karen Blackwell
Manager, Supplier Diversity and Development
Nestle

Karen Blackwell is the Manager for Supplier Diversity and Development for Nestlé Business Services of North America where she is responsible for reenergizing and expanding the supplier diversity initiative for Nestle North America by helping minority, women, and veteran owned and other sma...Full Bio

Anne Greer (Moderator)
Program Director, Market Insights Council; Co-Program Director, Innovation Leadership Council, and Applied Innovation Council
The Conference Board

Anne Greer began working with The Conference Board in 2012. Along with Rita Shor, she directs the annual Innovation Master Class, designed for advanced learned among Fortune 500 executives responsible for leading innovation in their companies. She is Co-Program Director fo...Full Bio