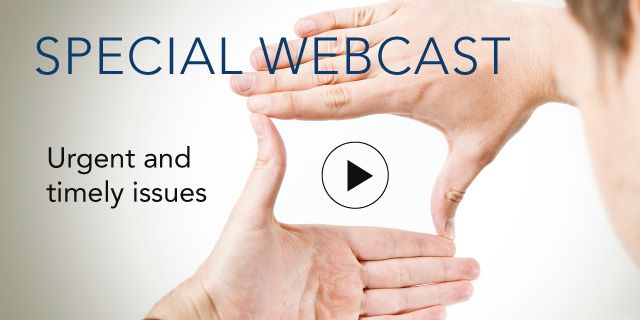 Your 2013 Must-Do List: Change Management Professionals

17 January, 2013 | (30 min)
Sign In to access this Webcast
In a world of constant churn and instant communication, organizations must be more nimble than in the past. The world has transformed from a leisurely golf game to a fast-breaking hockey game, continuously requiring adjustments--and with crushing consequences for the laggards. Leaders and teams must continuously monitor their constantly shifting environment and be prepared to take rapid and confident actions. The cost is often high: increased stress, deep frustration, major disruptions in the lives of employees and customers, and disappointing results.
Join this webcast to learn what top change management professionals are planning to do in 2013 to help their organizations reduce the human cost of change while ensuring strong and timely results.
Audience: Change management professionals and those who have significant change management responsibilities
This webcast is part of the series, Your 2013 "Must-Do" List: Shaping the Future. As expectations for performance grow and resources continue to be tight, it's more important than ever to identify those "critical few" actions that drive the best results. In this new series of webcasts, we'll hear from leaders on the front lines about the issues and opportunities they will address in 2013–why they chose what they did and how the list is different from the past. By participating in the webcast, participants will gain new insights and ideas for their own 2013 lists.
Speakers
Neil Wilson
Manager, Change Leadership Consulting
Chevron USA

Neil Wilson is the Manager of Change Leadership Consulting, for Project Resources Company, and affiliate of Chevron USA within Chevron Corporation. He leads a group of eight internal consultants and 90 external consultants applying a proprietary change management program design emphasizing leader...Full Bio

Julie Nelson
Director - McKesson IT Change Leadership
McKesson

Julie Nelson is a Director of Change Leadership for McKesson Corporation, America's oldest and largest health care services company. In this role, she has leveraged over ten years of Big 4 consulting experience to build a successful internal consulting practice. By establishing this e...Full Bio

Anne Greer (Moderator)
Program Director, Market Insights Council; Co-Program Director, Innovation Leadership Council, and Applied Innovation Council
The Conference Board

Anne Greer began working with The Conference Board in 2012. Along with Rita Shor, she directs the annual Innovation Master Class, designed for advanced learned among Fortune 500 executives responsible for leading innovation in their companies. She is Co-Program Director fo...Full Bio