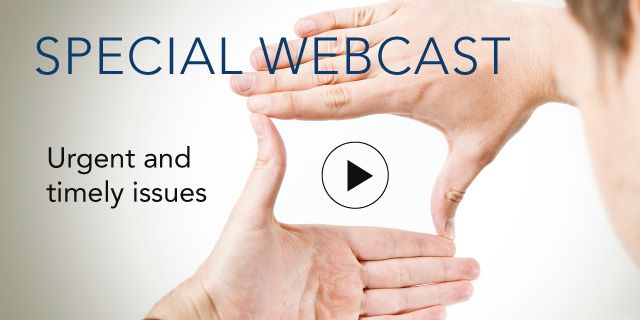 The Negotiability of Facts in the Digital Age

28 November, 2012 | (01 hr)
Sign In to access this Webcast
This webcast discusses how digital media is transforming corporate crisis management and how organizations, communities, and individuals perceive and interpret events in today's world. What is fact and what is opinion? What strategies are effective for companies evaluating the opportunity and risks by actively participating in online media?
Social media and web searches through blogs, online message boards, videos, newsfeeds, and social networks have created a virtual trading floor for opinion and influence that can drive behavior, sometimes with dramatic outcomes. Enterprise risk management today requires that all companies have an online content and search strategy that provides both monitoring and evaluation of sentiment from a variety of constituents. Such proactive engagement with the public and stakeholders puts companies into the conversation – it allows them to show their work, state their factual record, and influence perception.
Harlan Loeb, Head of Crisis and Risk Management at Edelman, outlines the shifting dynamics of social authority in the digital age and how corporations can adjust to influence stakeholder trust effectively. The webcast will include case studies.
Audience: Chief financial officers, treasurers, chief risk officers, risk managers, crisis management and disaster recovery/business continuity officers, heads of communications and public relations, general counsel, and chief legal officers
Speakers
Harlan Loeb
Global Practice Chair, Crisis and Risk Management
Edelman
Professor of Crisis, Litigation and Court of Public Opinion
Northwestern University Law School

Harlan Loeb heads Edelman's global Crisis & Risk Management practice. He is a nationally recognized expert in crisis management and reputational risk, and has developed a proprietary reputational risk modeling index for senior decision makers. Harlan has extensive experience...Full Bio

Ruth Whaley (Moderator)
Program Director
The Conference Board

Ruth Whaley is Program Director for Risk Management at The Conference Board. She has over 25 years executive experience in global fixed income products and risk management. Her firm, Barset Consulting LLC, advises clients on risk management practises, governance, transaction and portf...Full Bio