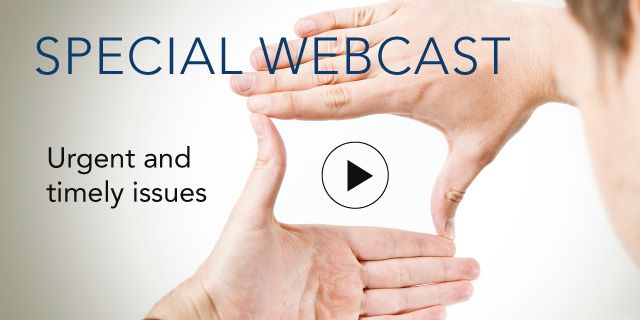 Your 2013 "Must-Do" List: Burning Platforms for Brand and Marketing Practitioners

04 December, 2012 | (30 min)
Sign In to access this Webcast
Brand and marketing are essential to building a company's relationship with its employees and customers. There are many inputs, expectations, and choices, making priorities particularly difficult to set. Those who are succeeding with brand and marketing initiatives target a "critical few" actions that address their company's biggest challenges and opportunities. Join this webcast to hear what leaders will be doing to expand their brand and marketing contribution in 2013.
Audience: Senior executives from shared service organizations (corporate functional areas) within communications, marketing, brand, and strategy.
This webcast is part of the series, Your 2013 "Must-Do" List: Shaping the Future.
As expectations for performance grow and resources continue to be tight, it's more important than ever to identify those "critical few" actions that drive the best results. In this new series of webcasts, we'll hear from leaders on the front lines about the issues and opportunities they will address in 2013--why they chose what they did and how the list is different from the past. By participating in the webcast, participants will gain new insights and ideas for their own 2013 lists.
Speakers
Roberta Butler
Senior Vice President, Marketing
FM Global

Roberta Butler is senior vice president– marketing, based in the company's corporate offices in Johnston, R.I., USA. In this position, Butler is responsible for brand management, communications services, corporate programs and exhibits, digital solutions, intellectual property and tra...Full Bio

Peter Gerber
Director, Global Brand & Communication Content Management
Eaton

In September 2006 Peter Gerber joined Eaton Corporation based in Cleveland, Ohio, as Global Brand Management and Communications executive responsible for the strategic positioning of the Eaton brand and its product lines, related B2B marketing and communication programs as well as most recently f...Full Bio

Anne Greer (Moderator)
Program Director, Market Insights Council; Co-Program Director, Innovation Leadership Council, and Applied Innovation Council
The Conference Board

Anne Greer began working with The Conference Board in 2012. Along with Rita Shor, she directs the annual Innovation Master Class, designed for advanced learned among Fortune 500 executives responsible for leading innovation in their companies. She is Co-Program Director fo...Full Bio