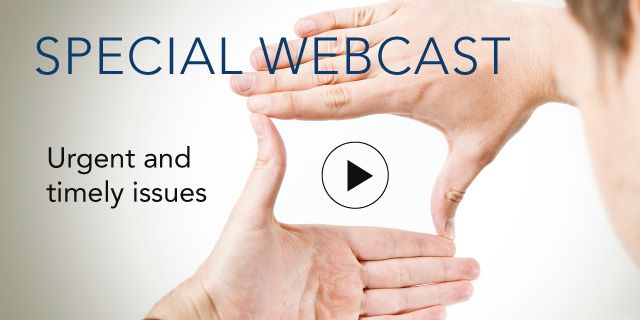 Book Discussion: Engaged

20 November, 2012 | (01 hr)
Sign In to access this Webcast
To view the on demand recording of this webcast, please make sure to login to our website by using the sign in button on the right hand side of this page. You can also use this button to create a free account, which will grant you access to our entire book discussion series!
Join us for our November Book Discussion webcast, featuring Geoffrey Matthews, Vice President, HR Strategy for Merck KGaA, and Linda Holbeche, Ph.D., Co-Director of The Holbeche Partnership, as they discuss their new book, Engaged: Unleashing Your Organization's Potential Through Employee Engagement. During tough economic times, managers are faced with new challenges related to keeping their employees motivated and energized. Engaged provides readers with an easy-to-use guide that offers practical solutions to keep employees engaged, while maximizing job efficiency and productivity.
David Learmond, Senior Fellow, Human Capital at The Conference Board will moderate this important discussion for any manager who wishes to understand the benefits of employee engagement, as well as how to build and measure it within one's own organization.
Audience: Human Capital professionals charged with strategic workforce planning, workforce readiness, diversity & inclusion, talent management, strategic human resources, employee engagement, leadership development or human capital analytics
Speakers
Linda Holbeche Ph.D.
Co-Director
The Holbeche Partnership

Linda is co-Director of The Holbeche Partnership (THP), a research-based development consultancy. Linda has a strong interest in helping organisations and individuals achieve sustainable high performance. Her consultancy practice includes strategy and leadership development, the development of hu...Full Bio

Geoffrey Matthews
Vice President, HR Strategy
Merck KGaA

Geoffrey Matthews is an experienced HR executive with an extensive background in employee engagement, organizational development, rewards, and international HR. He is co-author with Linda Holbeche of "Engaged: Unleashing Your Organization's Potential Through Employee Engagement"...Full Bio

David Learmond (Moderator)
Senior Advisor and Senior Fellow, Human Capital and Program Director, Asia-Pacific Human Resources Council
The Conference Board

David Learmond is a senior advisor and senior fellow in human capital at The Conference Board. In these roles, he supports the human capital practice, which includes Human Capital Exchange™, research, conferences, webcasts, and other human capital programs.

Full Bio