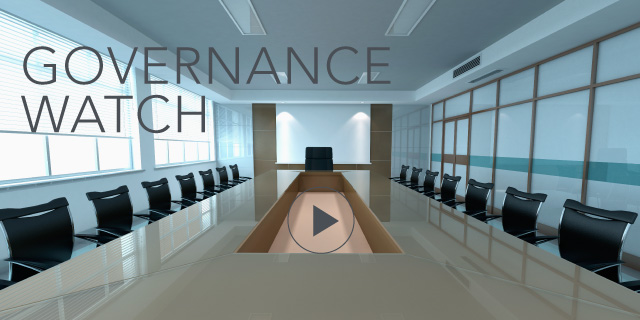 October 2013

21 October, 2013 | (01 hr)
Sign In to access this Webcast
Executive Compensation has been one of the key points of contention between issuers and investors through the past three proxy seasons. Comments are made on the complexity of executive compensation plans and disclosures. In an effort to move the discussion around executive compensation forward, The Conference Board, in collaboration with the Center On Executive Compensation and The Society of Corporate Secretaries and Governance Professionals, convened a working group to propose a set of principles and working definitions of "realized" and "realizable" pay to suplement the existing executive compensation proxy disclosures. Over the summer of 2013, the working group has interacted with issuers and investors to refine the proposal.
This webcast will present the working group's report and will cover issues such as:
How the definitions of "realized" and "realizable" pay were developed
Feedback from the business community on key issues
Implementation of the Working Group's principles and definitions
For more on the working group, please visit the working webpage at http://www.conference-board.org/supplementalpaydisclosure.
Audience: Corporate secretaries, directors of corporate governance, chief human resources officers, heads of total rewards, compensation and benefits executives, heads of governance and portfolio managers of institutional investors.
Speakers
Charles Tharp
Co-Chief Executive Officer
Center On Executive Compensation

Charlie Tharp is the Co-Chief Executive Officer of the Center On Executive Compensation. In that role, Tharp is responsible for setting overall policy positions and research initiatives undertaken by the Center and representing the Center in public forums. He is also Executive Vice President of H...Full Bio

Ken Bertsch
Executive Director
Council of Institutional Investors (CII)

Ken Bertsch was named Executive Director of the Council of Institutional Investors in March 2016. He has more than 30 years of experience across a wide range of investment, consulting, management and corporate governance roles. He most recently served as a Partner at CamberView Partners. He previ...Full Bio

Arthur H. Kohn (Moderator)
Partner
Cleary Gottlieb Steen & Hamilton LLP

Arthur H. Kohn is a partner based in the New York office of Cleary Gottlieb Steen & Hamilton LLP. His practice focuses on compensation and benefit matters, including executive compensation, pension compliance and investment, employment law, and related matters. Mr. Kohn is distinguished by Ch...Full Bio