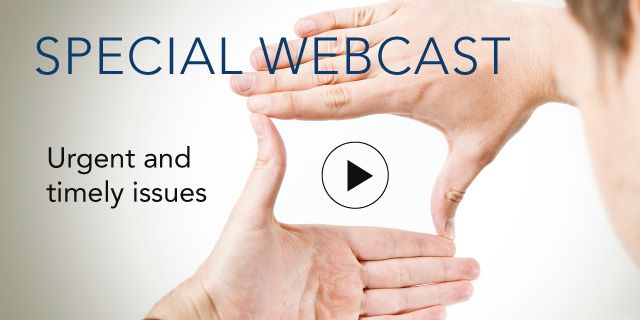 The Labor Market: What's hot and what's not

06 November, 2012 | (01 hr)
Sign In to access this Webcast
Michael Mandel from Progressive Policy Institute and Jonathan Rothwell from the Brookings Institution and will present on their recent findings on What's Working (and What's Not) in the US Labor Market. Where do the real mismatches lie and what are the implications?
In this webcast, we'll explore:
"Opportunities for those with the least education are often in the metro area labor markets with the most education," says Rothwell.
How much do mismatches in supply and demand for educated workers boosts U.S. unemployment? And how does the mismatch effect trends in industry demand and housing markets?
How are the top 100 metro areas doing in terms of opportunities for college graduates? For high school graduates?
Love all those new Apps for your phone? How many jobs have they created?
"The App economy is simultaneously global, local, and intensely personal . . . it looks like nothing we have seen before," says Mandel.
Opportunities and challenges for the year ahead
Audience: If you are a human resources leader, or professional responsible for Human Capital Analytics, Labor Markets, Strategic Workforce Planning, Workforce Readiness, Strategic Initiatives participating in this webcast will help you address your most pressing labor market issues. Labor Market economists are strongly encouraged to participate.
Speakers
Gad Levanon, PhD
Vice President, Labor Markets
The Conference Board

Gad Levanon is Vice President, Labor Markets for The Conference Board, where he oversees the labor market, US forecasting, and Help Wanted OnLine© programs. His research focuses on trends in US and global labor markets, the US economy, and forecasting using economic ind...Full Bio

Michael Mandel
Chief Economic Strategist
Progressive Policy Institute

Dr. Michael Mandel is chief economic strategist at the Progressive Policy Institute in Washington, where he supervises PPI's research and policy work across a wide range of topics, including the data-driven economy, the impact of regulation on innovation, and policies to improve production,...Full Bio

Jonathan Rothwell
Senior Research Associate and Associate Fellow, Metropolitan Policy Program
Brookings Institution

Jonathan Rothwell is a senior research associate and associate fellow at the Metropolitan Policy Program at the Brookings Institution, where he researches a variety of economics issues. He has devised new ways to measure economic concepts, including exports from metropolitan areas, skill mismatch...Full Bio

June Shelp (Moderator)
Vice President, Strategic Initiatives and Centers
The Conference Board

June Shelp provides direction for a number of centers, including the Governance Center, and directs new initiatives and special projects. Under her direction, The Conference Board developed The Conference board Help-wanted OnLine Series (HWOL)™, a new data series on labor demand that is the...Full Bio