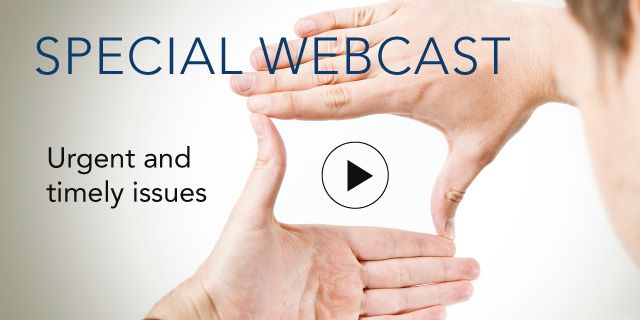 Europe's Future Economic Policy and its Impact on Business

23 October, 2012 | (01 hr)
Sign In to access this Webcast
The Conference Board Director General Webcast program is both extensive and varied, with briefings with senior officials from the EU Commission. Our guest speaker for the October webcast is Director General for Economic and Financial Affairs, Marco Buti.
During this webcast, Mr. Buti will address the following:
Despite major steps already taken to fight the crisis and address the weak spots of original institutional arrangements, European economies and in particular the euro area remain under pressure, as a result of continuing financial stress, slow growth and the adjustment process to correct pre-crisis imbalances. To respond to these short-term challenges and, on the longer-run, avoid a repetition of the current crisis, action is necessary on a number of different lines.
Lack of confidence of markets in general, and businesses in particular is a major factor in the current economic situation. It is therefore of the utmost importance that countries continue with credible fiscal consolidation increasing the sustainability of public finances. Furthermore, it is crucial to continue work to underpin the stability of the banking sector and prevent further financial fragmentation so that the flow of funds to the economy can be secured.
Macro-economic and financial stability should be further underpinned by the implementation of ambitious structural reforms. Structural reforms in product, services and labour markets are necessary to improve the way markets function, remove barriers and strengthen the business environment by opening new opportunities and make economies more flexible to facilitate adjustment.
Also, to address confidence and mend the weak spots of original institutional arrangements of EMU, further integration is needed. The President of the European Council, in cooperation with the Presidents of the Commission, Eurogroup and the ECB are working on a report on four essential 'building blocks' for further integration: (i) an integrated financial framework, (ii) an integrated budgetary framework, (iii) an integrated economic policy framework and (iv) democratic legitimacy and accountability. An interim report will be presented to the October European Council, the final report to the December European Council. The State of the Union address by President Barroso on 12 September already presented the ambitions of the Commission to work actively in those directions. The Commission will publish a blueprint this autumn to identify the necessary tools and instruments to complete a genuine economic and monetary union.
Speakers
Thomas Bernt Henriksen
Economic Editor
Børsen

Thomas Bernt Henriksen is the Economic Editor of the newspaper Børsen and solid economic commentator.
Thomas Bernt Henriksen came to Børsen in 2002 from a position as branch manager and head of international market analys...Full Bio

Marco Buti
Director General
European Commission

Marco BUTI, educated at the Universities of Florence and Oxford, joined the European Commission in 1987. He was economic advisor of the Commission President until 2003; from September 2003 to August 2006 he was Director of Economies of Member States at the Directorate-General for Economic and Fin...Full Bio

Andrew Tank (Moderator)
Executive Director, Business Development, Europe, Middle East and Africa

Andrew Tank is responsible for The Conference Board's membership in Europe, the Middle East and Africa. Associate Members receive on-going research in the fields of productivity, corporate governance and organizational effectiveness, information services and access to exclusive peer g...Full Bio