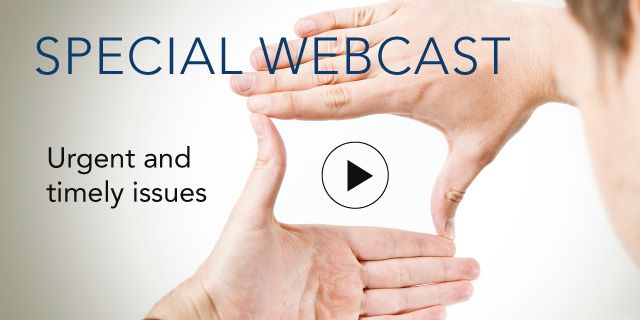 Corporate Governance Strategies for the Next AGM Season
It's Never too Early to Plan
11 September, 2012 | (01 hr)
Sign In to access this Webcast
Companies should begin planning their corporate governance and investor communications strategies now – well before the beginning of the next AGM season. The governance team within the company should come together to anticipate issues likely to be raised by major global investors and to formulate plans for contacting and communicating with them in advance of proxy voting season. For some issues, involvement by the Chairman and by certain members of the board (such as the Chairman of the Remuneration Committee) may be recommended. We will also cover how companies and investors should structure their communications without running afoul of selective disclosure regulations.
Specific key issues to be covered include:
Say on pay.
Regulation of proxy advisory firms.

Director communication with shareholders and the future of "comply-or-explain" versus "rules-based" governance.
"Shareholder Spring," populist activism and hedge fund activism.
Environmental, Social and Governance (ESG) focus of both issuers and shareholders.
Governance, stewardship, transparency and accountability of institutional investors.
Reform of the global proxy system.
Many of these issues will be covered in significantly greater depth at The Conference Board's Governance Academy which starts its first sessions 15-16 November in Brussels. For further information on the Governance Academy see: http://www.conference-board.org/governanceacademy/
Audience: Corporate secretaries, secretaries to the board of directors, legal and compliance counsel, governance officers, HR executives, benefits and remuneration executives, and Investor relations executives
Participants should have at least an introductory knowledge of the field of corporate governance to obtain the most value from the webcast.
Speakers
John C. Wilcox
Chairman
Morrow Sodali Global LLC

John C. Wilcox is Chairman of Morrow Sodali Global LLC, an international consultancy providing companies and boards of directors with advice and services relating to corporate governance, institutional investor relations, proxy solicitation, shareholder engagement and strategic cross-border trans...Full Bio

Dr. Carolyn Kay Brancato (Moderator)
Council Director, Corporate Governance
The Conference Board

Dr. Carolyn Kay Brancato has more than 30 years experience in various aspects of corporate governance, corporate finance and regulatory economics. Her work is globally recognized in such fields as: tracking the growth of global institutional investors; how equity market short-termism is dis...Full Bio