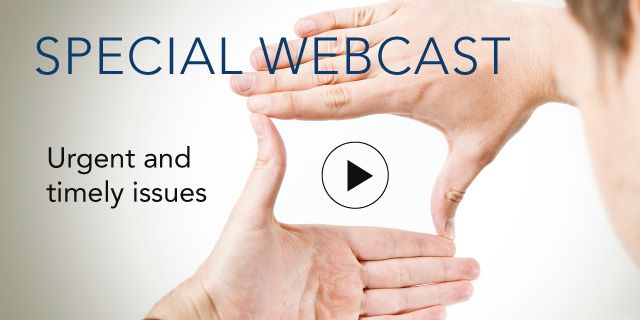 Book Discussion: I Wish I'd Known That Earlier in My Career

24 July, 2012 | (01 hr)
Sign In to access this Webcast
To view the on demand recording of this webcast, please make sure to login to our website by using the sign in button on the right hand side of this page. You can also use this button to create a free account, which will grant you access to our entire book discussion series!
Join us for our July Human Capital Exchange Book Discussion, featuring Jane Horan, author of the new book, I Wish I Had Known That Earlier in My Career. In addition to serving as a Senior Fellow for Human Capital at The Conference Board, Jane is also the founder at the Horan Group, which offers consulting in leadership and talent management, positive politics, and bias awareness for Fortune 500 organizations, academic institutions and NGOs. Prior to starting her own consulting firm, Jane was Director of Management and Organizational Development for Kraft Foods and Executive Director of Organizational Development for The Walt Disney Company in the Asia Pacific Region.
Jane's book offers a refreshing new approach to workplace politics, providing highly effective and easily applicable advice that will help take readers to the next level in their careers. Using specific case studies which examine corporate politics and the barriers many managers face in their efforts to reach the top, I Wish I Had Known That Earlier in My Career guides readers on how to move up within their current organizations by learning to more thoroughly understand corporate politics and embrace opportunities that help one achieve both personal and company-wide career satisfaction.
David Learmond, Senior Fellow in Human Capital at The Conference Board, will moderate this important discussion for anyone seeking to move forward in their professional life.
Audience: Human Capital professionals charged with leadership development, strategic workforce planning, workforce readiness, diversity & inclusion, talent management, strategic human resources, employee engagement, or human capital analytics would benefit from this webcast.
Speakers
Jane Horan, EdD
Distinguished Principal Research Fellow and Program Director, Asia Talent and Diversity Council and Asia Council of Women Leaders
The Conference Board

Jane Horan, EdD, is a Distinguished Principal Research Fellow in Human Capital and Program Director at The Conference Board and an expert in cross cultural leadership, diversity and inclusion, and career transitions. She is the founder of The Horan Group, helping organisations build inclusive wor...Full Bio

David Learmond (Moderator)
Senior Advisor and Senior Fellow, Human Capital and Program Director, Asia-Pacific Human Resources Council
The Conference Board

David Learmond is a senior advisor and senior fellow in human capital at The Conference Board. In these roles, he supports the human capital practice, which includes Human Capital Exchange™, research, conferences, webcasts, and other human capital programs.

Full Bio