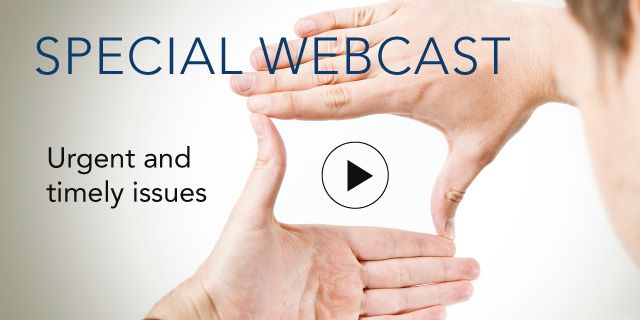 Global Economic Policy–What lies ahead? (Part 3)
PART THREE: Europe remains embroiled in fiscal crisis--what to expect next from policy makers
22 June, 2012 | (01 hr)
The global economic outlook remains extremely uncertain, highlighted by the continued fiscal crisis gripping Europe and the concern that the U.S. expansion is losing steam and the Chinese economy may be slowing more than anticipated. The upcoming Presidential and congressional elections in the U.S. and leadership change in China add further to the uncertainty. What key monetary and fiscal policy actions can we expect out of Washington and Beijing in the coming year? And what are the next steps for European policy makers likely to consider in terms of monetary and fiscal policy action in order to deal with the ongoing crisis?
Audience: Any business professionals who need to understand the expected future path for global economic policy.
Sign In to access this Webcast
Recent tumult in the European financial markets and large shifts in political control following key governmental elections raises questions as to what direction policy makers will take in the near to medium-term in Europe. Will the deterioration of the fiscal crisis force one or more countries to exit the European Union and abandon the Euro? Learn what to expect going forward.
Series Host
Kathy Bostjancic
Director, U.S. Macro Investor Services
Oxford Economics

Kathy has extensive experience providing insightful global economic and financial market analysis and forecasts to institutional and retail investors and Fortune 500 business leaders and professionals. She has a deep understanding of U.S. monetary... Full Bio
Speakers
Jean-Claude Manini
The Conference Board's former Senior Economist in Europe

Jean-Claude Manini, The Conference Board's former Senior Economist in Europe, is now working at a Swiss financial services firm. During his time with The Conference Board he helped analyze macroeconomic and financial conditions in Europe. He also worked with our Business Cycle Indicators te...Full Bio