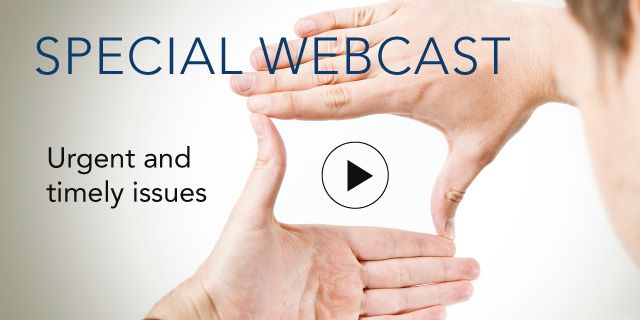 Improving Employment Outcomes for Employees with Disabilities

23 May, 2012 | (01 hr)
Sign In to access this Webcast
Employers around the world are concerned about how to increase the pool of available, qualified talent. A soon to be released Research Working Group report Leveling the Playing Field: Attracting, Engaging, and Advancing People with Disabilities, explores a variety of strategies and leading practices to help employers better leverage this population. One part of the RWGs discussion was on the challenge global employers have in meeting multiple national requirements regarding employees with disabilities. This webcast will explore both how these two leading companies have worked to level their playing field as well as their experience as a global employer.
The panelists will discuss:
What strategies are their companies using to "Level the Playing Field" for people with disabilities
How similar are the challenges around the recruiting, hiring and retention of people with disabilities from country to country
What role do federal requirements play in their hiring strategies
What are the key drivers in their organization for increasing participation of people with disabilities
Who should attend
The webcast is appropriate for executives in the following areas:
Human Resources
Diversity and Inclusion
Talent Management
Strategic Workforce Planning
Managers
Anyone with responsibility for recruitment, on-boarding, general management/development, diversity and inclusion or are interested in understanding how to better engage employees or perspective employees with disabilities.
Speakers
Mary Wright
Director, Workforce Readiness
The Conference Board

Mary Wright is director of The Conference Board Workforce Readiness Initiative and program director for the Business and Education Council. Her work focuses on how business engages in preparing the twenty-first-century workforce, including how to improve employment prospects for people with disab...Full Bio

Mousumi Das
Senior Manager, Global Diversity
KPMG International

From law to diversity: prior to joining KPMG International Co-operative (KPMG International) in May 2008 Mousumi Das worked as an insurance/reinsurance lawyer for five years for a leading international law firm in London, UK. Mousumi has a degree in Law with Politics and has relocated toToronto,C...Full Bio

Jolanda Verbeek
Founder and Director of Global D&I Consulting

Jolanda is the Founder and Director of Global D&I Consulting (2015), a global consultancy company that provides services ranging from (global) D&I strategy advice, design and/or facilitation of strategic D&I interventio...Full Bio