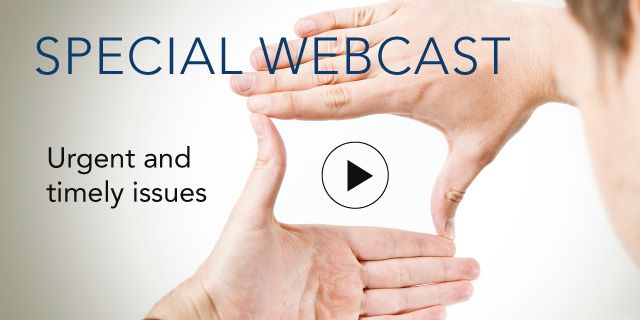 Economic, Political, and Regulatory Risk: External Challenges for CEOs

23 May, 2012 | (30 min)
Sign In to access this Webcast
The 2012 Conference Board CEO Challenge®— Voices from the Front Lines
In this new series of webcasts, we'll hear from corporate practitioners on the front lines of addressing the top-ranked challenges. Executives from across the enterprise will join lively discussions of what they believe will be the most critical strategies for meeting these challenges.
Near the top of the challenges that CEOs identified were three external risks: economic, political, and regulatory. We will look at how companies manage in the face of these big risks to achieve their objectives. Are there steps that organizations can take or tools to use that can anticipate challenges in these areas? How are economics, politics, and regulation interconnected in a way that may present opportunities? What kind of time frame should organizations be using when considering these risks and planning for growth? What lessons can we learn about the impact of political and economic risks on regulation? How should these risk factors drive business decisions?
Audience: Heads of risk management, directors, and CEOs that are working on meeting compliance standards, and anyone who deals with risk. CEOs that are looking for strategies for Government Regulation are also encouraged to attend.
Speakers
Bart van Ark
Senior Advisor
The Conference Board

Bart van Ark is a Senior Advisor of the Economy, Strategy and Finance (ESF) Center at The Conference Board. From 2008 until September 2020 he was Chief Economist and Head ...Full Bio

Rainer Schultheis
Executive Vice President and Managing Director, International
The Conference Board

Rainer Schultheis is Executive Vice President and Managing Director, International. His previous positions at The Conference Board include executive fellow for the European finance and economics councils; program director of the Asia-Pacifi c CFO Council, the Asia-Pacific Supply Chain Council, an...Full Bio

Martin Fleming
Chief Economist
IBM

Martin Fleming is IBM's Chief Economist and Vice President, Business Performance Services.

In leading the Business Performance Services team, Martin leads an analytics center of competency focused on improving IBM's business performance and achieving IBM's 2015 financial...Full Bio

Ellen Hexter (Moderator)
Program Director, Chief Audit Executives Council, IT Audit Leaders Council, Mergers & Acquisitions Executives Council, Strategic Risk Management Council, and Strategic Risk Management Council (Temp)
The Conference Board

Ellen Hexter is senior advisor, enterprise risk management at The Conference Board. She has served on the faculty of The Conference Board Directors' Institute and worked with boards to provide director training in risk management practices and the role of the board in ERM oversight.

Full Bio