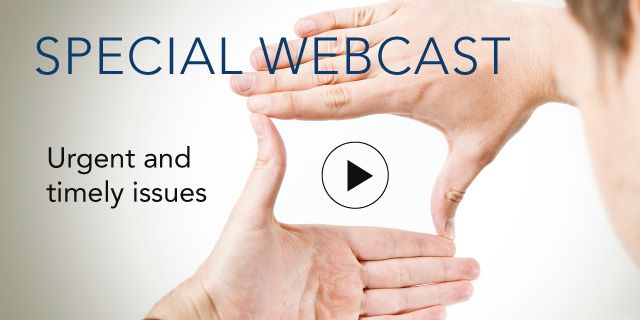 CEO Challenge - European Focus

19 June, 2012 | (01 hr)
Sign In to access this Webcast
Come join this interactive discussion about the most pressing challenges on the minds of CEOs as reflected in The Conference Board CEO Challenge® 2012. In a time of increased global competition, rising risk and unpredictability; when companies and countries are seeking to rebound, rebuild, and reinvent themselves in the pursuit of growth, European CEOs cite global political and economic risk as their primary challenge, followed by innovation and government regulation, with cost optimization and global expansion tied for fourth. Europe was the only region not to rank human capital concerns in its top five.
Bart van Ark, Executive Vice President and Chief Economist at The Conference Board, will share the findings from the study followed by a discussion with Alan Brown, CEO Rentokil about what is happening in the European economic and business environment, how it affects business leaders and what strategies they engage in order to meet their business challenges.
Who should attend:
Strategy, Planning, Finance, Economics, Risk, Operations, International, and Human Resources Executives – those responsible for implementing strategies to address the CEO's challenges.
Speakers
Bart van Ark
Senior Advisor
The Conference Board

Bart van Ark is a Senior Advisor of the Economy, Strategy and Finance (ESF) Center at The Conference Board. From 2008 until September 2020 he was Chief Economist and Head ...Full Bio

Alan Brown
CEO
Rentokil

Mr. Brown served as the Chief Executive Officer of Rentokil Initial plc since April 2008. He served as Chief Financial Officer of Imperial Chemical Industries Plc since November 14, 2005. Mr. Brown joined Imperial Chemical Industries Plc, from Unilever where he has a distinguished career as...Full Bio

Rainer Schultheis (Moderator)
Executive Vice President and Managing Director, International
The Conference Board

Rainer Schultheis is Executive Vice President and Managing Director, International. His previous positions at The Conference Board include executive fellow for the European finance and economics councils; program director of the Asia-Pacifi c CFO Council, the Asia-Pacific Supply Chain Council, an...Full Bio