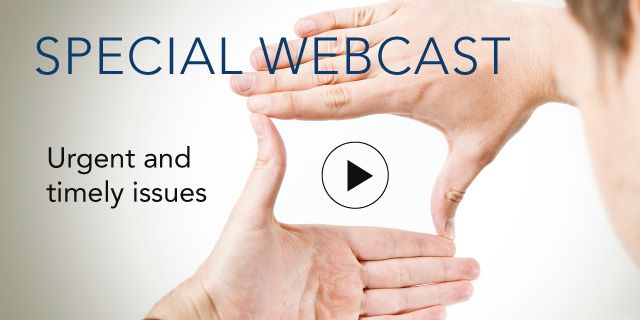 Understanding Financial Conditions and Financial Instability

01 May, 2012 | (01 hr)
Sign In to access this Webcast
Although financial markets are relatively calm now following the restructuring of Greek sovereign debt through the private sector involvement program, the problems and the potential for contagion of other Euro Area countries, and the implications for the wider global economy remain. How can we use the global business cycle indicators framework and the new Leading Credit Index™ to look at some of these issues and look ahead at the possible sources of financial risk and instability in the global economy?
This webcast will discuss the relationship between categories of economic and financial indicators and, to the extent that some regularities exist, how their analysis can provide better insight about:
The timing of peaks and troughs in the business cycle
The causes and the likely pattern of the business cycle
The relationship between financial conditions, financial instability and the business cycle
There are good leading indicators among financial indicators – that is why some them are integrated in the LEI – but there is also a lot of noise in financial indicators – as shown by our research on developing the Leading Credit Index (LCI). Analyzing in a systematic way the relationship between the financial instability and financial conditions should help us to better assess which part of changes of the level of stress in financial market is noise and which part may influence business cycle. For example, at the end of 2011, the increases in financial instability due to the European debt crisis was not fully reflected by the financial conditions indicators, suggesting that the impact of the crisis on the business cycle may be limited.

Audience: This webcast will appeal to all business executives who want to learn more about the global business cycle indicators framework and the new Leading Credit Index™.


Speakers
Ataman Ozyildirim, PhD
Director, Economic Research, and Global Research Chair
The Conference Board

Ataman Ozyildirim, PhD is the Director of Economic Research and Global Research Chair at The Conference Board. He specializes in the development of economic indicators and in forecasting aggregate economic activity worldwide. He also oversees The Conference Board's Global Economic Outlook a...Full Bio

Jean-Claude Manini
The Conference Board's former Senior Economist in Europe

Jean-Claude Manini, The Conference Board's former Senior Economist in Europe, is now working at a Swiss financial services firm. During his time with The Conference Board he helped analyze macroeconomic and financial conditions in Europe. He also worked with our Business Cycle Indicators te...Full Bio

Kathy Bostjancic (Moderator)
Director, U.S. Macro Investor Services
Oxford Economics

Kathy has extensive experience providing insightful global economic and financial market analysis and forecasts to institutional and retail investors and Fortune 500 business leaders and professionals. She has a deep understanding of U.S. monetary and fiscal policy and its impact on the economy a...Full Bio