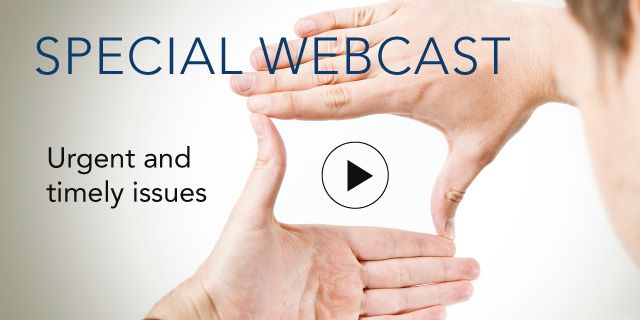 The Changing MO of the CMO: How the Convergence of Brand and Reputation is Affecting Marketers
B2B Perspective: Xerox
08 May, 2012 | (01 hr)
Sign In to access this Webcast
This session is based on the tenets of the book "The Changing MO of the CMO - How the Convergence of Brand and Reputation is Affecting Marketers," a bird's eye view into the thinking of some of the world's most successful marketing leaders in both the B2C and B2B spaces. In an era where social media has resulted in an increasing lack of control over how brands are perceived, these marketers have embraced a broader definition of marketing to include two-way communications and engagement, taking a different approach to organizational structure and planning processes. Indeed, some of the marketers interviewed suggest the emergence of a new discipline: a hybrid between traditional push marketing and the relationship-building aspect of public relations.
In viewing , participants will:
discover the growing importance of integration in marketing teams and practices;
learn how some organizations are structuring marketing functions to be more holistic and inclusive of new disciplines;
hear about engagement, conversation and story-telling that cultivates brand advocacy; and
understand why engagement with all audiences, not just customers, is increasingly important in driving success for marketers.
Audience: CMOs and Marketing Directors, other senior marketing executives, marketing managers and brand managers, CCOs and senior communications executives
Speakers
Christa Carone
Chief Marketing Officer
Xerox

Christa Carone is the chief marketing officer of Xerox Corporation. She was named to this position in September 2008, and was appointed a vice president of the corporation in May 2010. Carone is responsible for global marketing strategy and initiatives that include advertising, experiential marke...Full Bio

MaryLee Sachs (Moderator)
Program Director, Council for CMOs
The Conference Board

MaryLee Sachs is the Program Director for The Conference Board Council for CMOs. MaryLee has over 25 years of experience in integrated marketing in the international arena, and is the Founder and CEO of BrandPie Inc which she launched in 2014 as the sister firm to London-based BrandPie Ltd; a bra...Full Bio