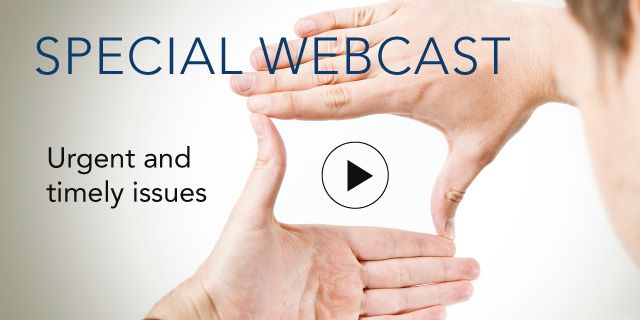 Michelin and The Conference Board: An Engaged Partnership

28 March, 2012 | (01 hr)
Sign In to access this Webcast
In an age when many companies are struggling to assess engagement as a measure of organisational success, the key question that surfaces is "Should we look at employee engagement differently?"
As global players encounter critical issues throughout the lifecycle of the engagement process, are they managing to define new business metrics that matter and outline new roadmaps for their leaders?
This webcast will give us the opportunity to hear from one of the world's leading tire manufacturer. We will learn how Engagement has become part of the fabric at Michelin and the impact that it has had from a cultural and business perspective. In addition, the webcast will elaborate on how working together with The Conference Board for insights led to a partnership of mutual benefits using various tools: access to research, peer learning networks, experiential leadership programs, briefings, custom innovation programs and engagement survey work.
Jean-Michel Guillon, Corporate Vice President, Personnel, Michelin; and from The Conference Board: Jon Spector, President and CEO and Rebecca Ray, Senior Vice President and Leader of the Human Capital Practice, will share their experience of working together for a common goal: "Better understanding the impact of engagement as a competitive business advantage".
Speakers
Jonathan Spector
Senior Advisor, Former President and CEO
The Conference Board

Jonathan Spector is the former president and CEO of The Conference Board, Inc., and is currently a senior advisor to the organization.

Spector joined The Conference Board after serving as Vice Dean of The Wharton School at the University of Pennsylvania. He was responsible during his tenu...Full Bio

Jean-Michel Guillon
Corporate Vice President, Personnel
Michelin

Jean-Michel Guillon was born on July 1, 1959 in Vanves (Hauts de Seine). In 1982, he graduated from Institut Commercial de Nancy and joined the Michelin Group. For 19 years, he held various managerial positions in sales and marketing in France, Brazil, Sweden, Germany and the United Sta...Full Bio

Rebecca L. Ray, PhD (Moderator)
Executive Vice President, Human Capital
The Conference Board

Rebecca Ray is the Executive Vice President, Human Capital, at The Conference Board. She leads the US Human Capital Center and is responsible for member engagement and retention as well as the overall quality and continuing integration of all research and offerings across the human capital spectr...Full Bio