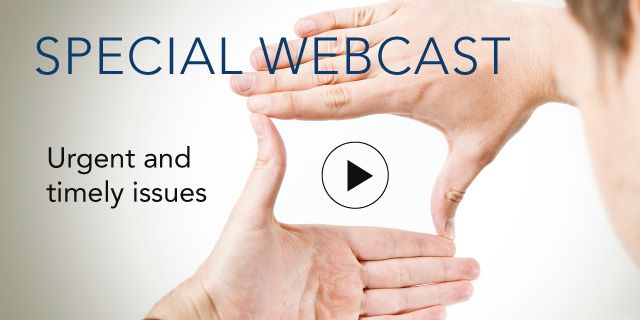 The First Six Months Under the Dodd Frank Whistleblower Rules
Executive Briefing and Way Forward
04 April, 2012 | (01 hr)
Sign In to access this Webcast
With the first six months of operation under the new (and still controversial) Dodd Frank whistleblower program now completed, key leaders from the enforcement, whistleblower advocate, and corporate defense communities join in this interactive executive briefing, with opportunity for Q&A and audience polling.
How is the new program managing the record number of whistleblower tips (344 in the first 7 weeks, nearly 50 per week) from individuals not only in the U.S., but also foreign jurisdictions including U.K., China and Australia? How have companies reacted to these developments? What lessons and takeaways for industry, particularly Boards, CEOs, CECOs, GC's and other leaders within organizations? This "must attend" briefing includes an analysis of the results so far: including the SEC website listing of more than 170 cases (where sanctions against a company exceeded $1,000,000) potentially eligible for whistleblower payouts of between 10–30 percent of the total penalties paid. And the coffers of the SEC's Investor Protection Fund (which helps fund the bounty hunter payments to whistleblowers) are full. The fund balance is more than $452 million. In May 2011, SEC Chairman Mary Schapiro stated, "Our rules create incentives for people to report misconduct to their employers, but only if those companies have created an environment where employees feel comfortable that management will take them seriously—and where they are free from possible retaliation."
Our high-level, knowledgeable panel will review the Dodd Frank program results so far and what they mean for organizations going forward.
Audience: Boards, CEOs, Corporate Secretaries and leaders of Compliance, HR, Legal, Audit, Security, and other areas responsible for supporting legal and ethical culture, compliance, and internal investigations within organizations.
Speakers
Steven Pearlman
Partner
Seyfarth Shaw LLP

Mr. Pearlman, a partner in Seyfarth Shaw's Labor & Employment Department, is the Co-Chair of the Firm's national Sarbanes-Oxley Act (SOX) Whistleblower Team (www.seyfarth.com/SOX). Recog...Full Bio

Stephen Kohn
Executive Director
National Whistleblower Center

Stephen M. Kohn is the Executive Director of the National Whistleblowers Center and the author of The Whistleblower's Handbook: A Step by Step Guide to Doing What's Right and Protecting Yourself (Lyons Press, 2011).

...Full Bio

Stephen Cohen
Associate Director of the Division of Enforcement
U.S. Securities and Exchange Commission

Stephen Cohen is an Associate Director in the Securities and Exchange Commission's Division of Enforcement. In that capacity, Steve oversees a broad range of domestic and international enforcement activities, including investigations involving accounting fraud, insider trading, F...Full Bio

Donna Boehme (Moderator)
Principal
Compliance Strategists, LLC

Donna Boehme is an internationally recognized authority in the field of organizational compliance and ethics with 20+ years experience designing and managing compliance and ethics solutions, both within the US and worldwide. As Principal of Compliance Strategists LLC, Boehme has advised a w...Full Bio