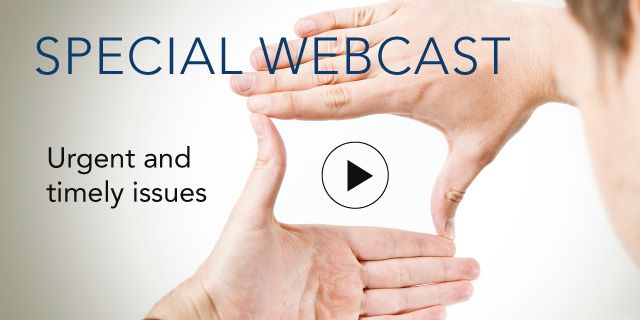 Build Stress Resilience – Grow the Business
Enhancing Employee Well -being and Emotional Intelligence
16 March, 2012 | (01 hr)
Sign In to access this Webcast
Stress imposes significant costs on employee health and organization performance. Worryingly, these costs are escalating. For example , in the UK, stress related mental health problems cost business £ 28 billion per year (50 times the cost of strikes!). In the US stress related costs to business are estimated at $ 300 billion per year.
The causes of stress lie not only inside the organization but also outside it, in the external environment. Business becomes constantly more competitive. The economy becomes less predictable and more volatile. Employee's personal lives also contribute to stress. Indeed the causes of stress are many, complex and not possible to control. So what should we be doing about this as leaders?
We must focus on building employee stress resilience. This is a far more rewarding and realistic strategy than attempting to eliminate the causes of stress. Employees free of damaging stress help avoid the costs of stress related illness. Even more importantly , employees in a relaxed yet acutely alert state of mind demonstrate enhanced emotional intelligence . This reflects in improved teamwork, creativity and customer service , just what we need to propel growth in the business.
Topics:
How stress affects employee and organization performance.
Building employee stress resilience through mindfulness training.
How the skills acquired enhance teamwork, creativity, customer service.
Who should attend
CEOs, Presidents of Businesses, Sales Directors , Marketing Directors ,HR Directors , executives in Organization Development, Leadership Development ,the Training function , executives dealing with employee health issues and costs., executives looking to self-development to enhance own wellbeing and productivity.
Speakers
Naren Nanda
Director
Enen Ltd

Naren is Director of Enen Ltd , an organisation devoted to executive coaching which he set up in 2003.He coaches senior executives in companies in the UK and Netherlands and also in Asia, with a special emphasis on India. He works across 'work' and 'life' issues, hel...Full Bio

Sara Murray (Moderator)
Executive Director, Centers
The Conference Board

Sara Murray is the Executive Director of Centers at The Conference Board–Europe. She leads the EU Human Capital Center as well as the EU Marketing & Communications Center. She is responsible for peer learning networks, executive events, and webcasts.

In addition, Sara is respons...Full Bio