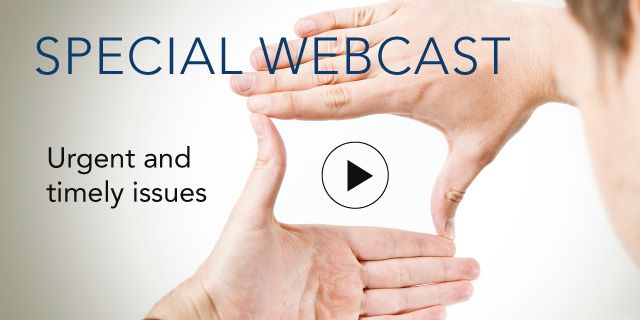 Balanced Leadership for the 21st Century
New Dynamics of Masculine and Feminine Qualities in Leadership
15 March, 2012 | (01 hr)
Sign In to access this Webcast
Balanced Leadership addresses the need for a fundamental shift in the definition of good leadership for a fundamentally changing business environment.
Current leadership models and corporate cultures are built on predominantly "masculine" qualities, values and behavior. One of the consequences of holding on to the old models in a transformed world is an acute lack of connectedness. This is not surprising when you consider that companies and company cultures have their roots in the previous centuries, with challenges fundamentally different from those we face today.
Companies assess and reward managers on "masculine" competences that primarily fit pyramidal organisations. An evolution is underway, however, to flat (virtual) networked organisations, in which there is great need for collaboration, co-creation and empathy. These new values are predominantly "feminine".
Creating a better gender balance and a more inclusive leadership style are important strategic issues for companies who want to successfully connect with changing customer demands, establish an innovative and creative working environment and attract and retain the best available talents.
However in the gender balance debate a lot of attention is given to the numbers (with quota or target figures) and to programs directed at "fixing the women". And in all fairness, progress is slow to say the least.
The concept of Balanced Leadership takes the debate a step further to the needed changes in corporate culture and leadership behaviour. The internal definitions of good leadership have a direct impact on the type of leaders a company (re)produces.
Balanced Leadership is about recognizing, valuing, developing and using both masculine en feminine qualities in leadership. This goes beyond gender, as both masculine and feminine qualities are inherently available within every individual.
During this webcast you will learn what the masculine and feminine dimensions are, and how you can put them to use in a business context.
A Balanced Leader is able to take the strengths from both the masculine and feminine leadership style, regardless of his or her gender.
You will also be able to spot imbalanced leadership behavior and understand its origins.
This webcast(s) will discuss
The need for Balanced Leadership
The dynamics of masculine and feminine qualities
Recognizing corporate cultures
How to develop Balanced Leadership and a balanced organization
Becoming an agent for change
Audience
CEOs, HRDs, CLOs, those responsible for developing leadership programmes and all executives interested in making their personal leadership more effective.
Executives responsible for Leadership Development, Diversity Management, Talent Management, Executive Development, Learning & Development, Coaching
Speakers
Michèle Mees
Partner
Centre for Balanced Leadership

Michèle Mees supports CEOs and management teams in creating a balanced organizational culture, and empowers both men and women to develop feminine and masculine qualities in a balanced leadership style. Her passion comes from her belief that this results in increased personal and team well...Full Bio

Lorenzo Civile
Global Head of Diversity
ING

Lorenzo Civile is globally responsible for the diversity strategy within ING Bank and supports the business in their strive to become the Preferred Bank for their customer groups and a top employer for their (future) employees. He aims to support the business by helping them to consistently ...Full Bio

Sara Murray (Moderator)
Executive Director, Centers
The Conference Board

Sara Murray is the Executive Director of Centers at The Conference Board–Europe. She leads the EU Human Capital Center as well as the EU Marketing & Communications Center. She is responsible for peer learning networks, executive events, and webcasts.

In addition, Sara is respons...Full Bio