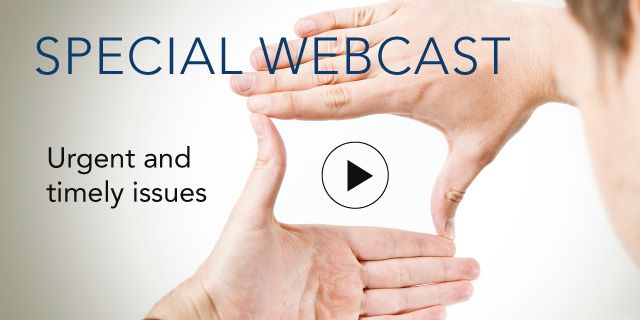 Senior Management Compensation
All About Performance Plans
03 April, 2012 | (01 hr)
Sign In to access this Webcast
With regulators, proxy advisers and the media all continuing to stir the pot, both investors and boards are seeking better ways to align performance and pay outcomes. Clearly, the acid test of investor concerns—and of whether or not executive pay is linked to performance—is in years when their companies do not perform well. However, in the current governance climate, and particularly in the current fragile economic environment, investors remain concerned with executive pay levels even in years when their returns are high. A clear trend is developing in the method selected by companies to improve the alignment of pay and performance outcomes—the increased usage of long-term performance plans instead of traditional stock options and restricted stock awards. The increased complexity of these plans, as compared to options and restricted shares makes it critical for all those accountable to shareholders for executive pay decisions to understand the challenges they face in getting their performance plans right.
Join a panel of experts who will discuss why and how these plans have emerged as a best practice for aligning long-term pay and performance, pitfalls to avoid and other key learnings from practitioners, and how companies can focus on the positive results that are possible, including increased transparency, acceptance and trust between shareholders, boards and management.

In viewing, participants will explore...
Board challenges in balancing multiple stakeholder interests, governance standards, investor concerns and sound business strategy
Driving value creation vs. just creating pay value
The essentials—setting appropriate payout opportunities, timelines, performance targets and peer groups
Tailoring performance plan design to unique company needs for incenting behaviors that will achieve sustainable success
Audience: Board Compensation Committee members, "C-Suite" Executive Officers, Chief Human Resource Officers, Senior VPs of Compensation and Benefits, VPs of Compensation and other senior executives who are accountable to shareholders for the alignment of management pay and company performance.
Speakers
Robert J. Centonze
Vice President, Total Rewards
Campbell Soup Company

Bob Centonze is Vice President Total Rewards with the Campbell Soup Company. His role encompasses the planning, design, communication and administration of Campbell's global compensation and benefit programs. In addition, Bob focuses on executive compensation, Board governance and M&A d...Full Bio

Yonat Assayag
Partner
ClearBridge Compensation Group

Ms. Assayag is a partner at ClearBridge Compensation Group. Ms. Assayag has over fifteen years of experience advising boards and senior management on executive compensation issues and developing effective compensation strategies and design. Her experience spans a variety of industries in both the...Full Bio

Russell Miller
Founder and Managing Director
ClearBridge Compensation Group

Mr. Miller is founder and managing director of ClearBridge Compensation Group. Mr. Miller has over twenty years of experience advising boards and senior management on performance measurement and compensation strategy, with the goal of aligning rewards with shareholder value creation. Prior ...Full Bio

Michele Aguilar Carlin
Senior Vice President, Human Resources
Motorola

Shelly Carlin is senior vice president, Human Resources, for Motorola Solutions. In this role, her worldwide responsibilities include workforce development, organizational effectiveness, benefits and compensation, staffing, global inclusion and diversity.

Carlin joined Motorola in 2008 as...Full Bio

Brit Wittman
Director, Executive Compensation
Intel Corporation

Brit leads a global team responsible for the design, implementation and administration of all variable, equity and executive compensation programs for the 100,000+ employees of Intel. Additionally, Brit is responsible for the relationship with the Compensation Committee of the Board of Dire...Full Bio

William Tompkins
Head of Total Rewards and Global Mobility
The Coca Cola Company

William Tompkins is responsible for The Coca-Cola Company's Total Rewards strategies including the design and governance of the company's global compensation, benefits, and global mobility programs to drive the long-term growth of the organization.

Prior to joining the Company...Full Bio