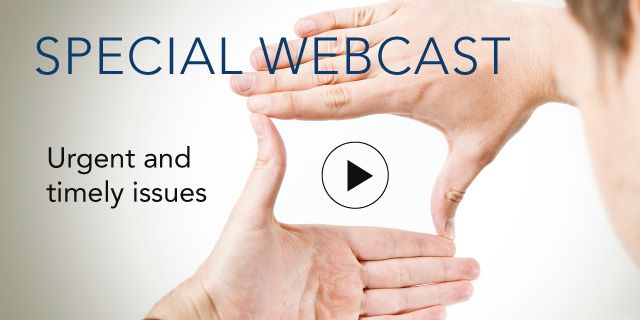 The Next Generation of Engagement
An Opportunity to Join the Engagement Research Community of Practice
06 February, 2012 | (02 hr)
Sign In to access this Webcast
The specific focus of this webcast will be to provide information about a unique opportunity to lead engagement efforts at your organization with the benefit of peer and expert learnings as a member of this community of practice. We will break new ground in understanding the linkage between Employee Engagement and Business Impact, and to evolve employee engagement measurement tools as needed to maximize the benefits realized from employee engagement initiatives.
The Conference Board Employee Engagement Survey was built by practitioners for practitioners; our research continues to enhance and inform our survey. This is consistent with our unique original approach to Employee Engagement - emerging issues and potential refinements have been and will continue to be heavily driven by the needs and insights of our members. Recently launched Research Working Groups are currently focusing on gaining new insights into the use of Human Capital Analytics as it applies to engagement as well as "best practices" in raising levels of employee engagement in this new normal. Those programs will conclude in mid-2012 and will provide a source of fresh ideas on the subject of Engagement. To further build upon that work and create an environment that supports continuous improvement in defining and measuring employee engagement initiatives, this research program will create an on-going community of practice for sharing insights across participating member companies.

In viewing, participants will...
Understand the unique opportunity to join an engagement community of practice

Understand the importance of being able to articulate the business impact of engagement, a key support tool included in this research community
Audience: All human capital professionals


Speakers
Jonathan Spector
Senior Advisor, Former President and CEO
The Conference Board

Jonathan Spector is the former president and CEO of The Conference Board, Inc., and is currently a senior advisor to the organization.

Spector joined The Conference Board after serving as Vice Dean of The Wharton School at the University of Pennsylvania. He was responsible during his tenu...Full Bio

Steve Melendes
Global Enterprise Member Engagement Director
The Conference Board

Steve Melendes is director of member engagement with The Conference Board, serving as a strategic partner to Fortune 1000 executives and working to tackle their most challenging business issues. He connects subject matter experts in the areas of economics, human capital, leadersh...Full Bio

Rebecca L. Ray, PhD (Moderator)
Executive Vice President, Human Capital
The Conference Board

Rebecca Ray is the Executive Vice President, Human Capital, at The Conference Board. She leads the US Human Capital Center and is responsible for member engagement and retention as well as the overall quality and continuing integration of all research and offerings across the human capital spectr...Full Bio