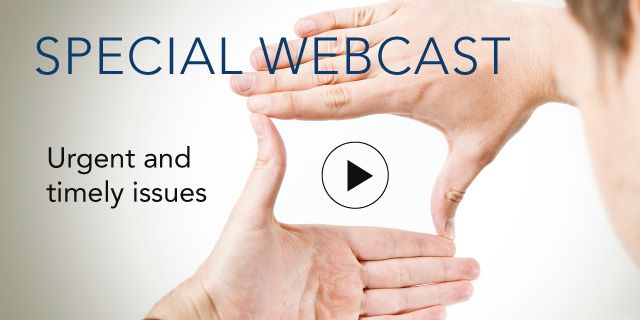 Board Evaluations in the UK and Continental Europe

19 October, 2011 | (01 hr)
Sign In to access this Webcast
Boards of directors throughout the U.K. and Continental Europe are increasingly undertaking self-evaluation processes. The main driver for board evaluations is compliance with governance codes. However, such codes -- either mandated by law or identified in "best practice" codes advocated by major business groups -- vary considerably with regard to the frequency for conducting board evaluations, the use of internal versus external evaluations ( the latter often using independent third parties), and the disclosure of board evaluation processes in company annual reports. This webcast describes how prevalent are board evaluations in the U.K. and Continental Europe, what key questions boards should ask of themselves before they undertake an evaluation, the mechanics of effective board evaluations and how companies go about disclosing information pertaining to their evaluation processes.
What are the most important questions boards should ask themselves before they begin the evaluation process?

What are "best practices" in initiating and conducting a board evaluation?

How much information is required to be (or should be) disclosed regarding the evaluation process?
Who Should Attend:
Executive Directors, CEOs, Chief Legal Counsel, Corporate Secretaries, Corporate Governance Officers, Secretaries to Boards of Directors, Risk Officers, Human Relations Executives, Investor Relations Executives, Institutional Investors
Speakers
Aileen Taylor
Group Secretary
The Royal Bank of Scotland

A corporate lawyer, Aileen Taylor assumed the role of Group Secretary in May 2010. She joined RBS in 2000 and was appointed Deputy Group Secretary and Head of Group Secretariat in 2007. Prior to that Aileen held various legal and risk roles.

She is a fellow of the Chartered Institute of B...Full Bio

Hans Martin Heikvam
Company Secretary
Norsk Hydro ASA

Hans Martin K. Heikvam, Company Secretary Norsk Hydro ASA Hans Martin has been Company Secretary of Hydro since 2007. As Company Secretary his main task is to facilitate the operation of Hydro's governing bodies, and supervising on corporate governance. Hans Martin holds law degrees f...Full Bio

Dr. Carolyn Kay Brancato (Moderator)
Council Director, Corporate Governance
The Conference Board

Dr. Carolyn Kay Brancato has more than 30 years experience in various aspects of corporate governance, corporate finance and regulatory economics. Her work is globally recognized in such fields as: tracking the growth of global institutional investors; how equity market short-termism is dis...Full Bio