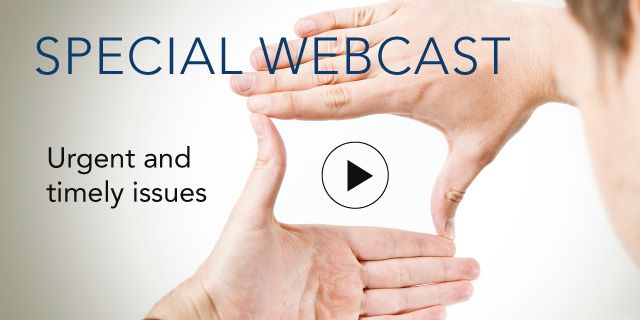 Managing Human Capital Risk: Who's Doing It? How Can We get Started?

14 September, 2011 | (01 hr)
Sign In to access this Webcast
People make up a huge proportion of operating costs, and many CEOs claim that employees are the company's most important asset. Yet most companies omit human capital altogether or include a limited number of people-related issues when they identify, assess, prioritize and treat company-wide risks through Enterprise Risk Management (ERM)!

New research from The Conference Board investigates the current state of human capital risk management in U.S., European and Asia-Pacific-based companies. Human capital outranks many other kinds of risk based on its potential business impact, yet less than one third of companies say they assess and manage human capital risk effectively. The study's findings point to a few critical factors that set these companies apart.

The research also finds a significant disconnect between Human Resources and Enterprise Risk Management. The two corporate functions that ought to have a common interest in human capital risk have strikingly different views about its impact and management.

Guests will explore how companies are beginning to frame the key questions:
• Where should the responsibility for human capital risk management reside?
• What can Human Resources and Enterprise Risk Management each contribute to a more effective approach to human capital risk?
• What are the critical success factors?
• How can companies get started?
Speakers
Andrew Wallace
Executive Director, Workforce Planning
UBS

Andrew Wallace is an Executive Director at UBS, the global financial services firm. He works in Human Resources in New York, where he is responsible for strategic workforce planning within the Recruitment function, a role he has held since 2008. Before that, his UBS roles have include...Full Bio

Olivier Balmat
Head Group Risk Management
Syngenta International AG

Olivier Balmat is Head Group Risk Management and responsible for the Enterprise Risk Management within Syngenta. This includes the regular review and reporting of the Group Risk Profile to the Executive Committee and the Board of Directors, as well as including the global operations (Divisions, F...Full Bio

Ellen Hexter (Moderator)
Program Director, Chief Audit Executives Council, IT Audit Leaders Council, Mergers & Acquisitions Executives Council, Strategic Risk Management Council, and Strategic Risk Management Council (Temp)
The Conference Board

Ellen Hexter is senior advisor, enterprise risk management at The Conference Board. She has served on the faculty of The Conference Board Directors' Institute and worked with boards to provide director training in risk management practices and the role of the board in ERM oversight.

Full Bio

Mary B. Young, D.B.A. (Moderator)
Principal Researcher, Human Capital
The Conference Board

Dr. Mary Young leads The Conference Board's program of research on digital transformation's human capital impacts, big data and human capital analytics, and strategic workforce planning.

Mary is the author of more than 25 research publications from The Conference Boardin...Full Bio