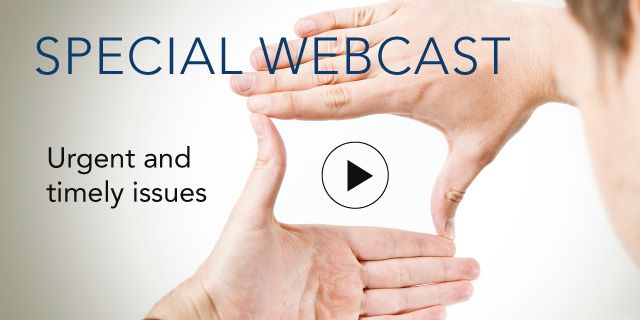 China and Sustainable Business Practices
How Real is the New Direction?
20 September, 2011 | (01 hr)
Sign In to access this Webcast
How serious is China about promoting and enforcing sustainable business practices? What is the role of foreign companies and are Chinese companies beginning to take the initiative? There has been little reliable data on sustainability efforts in China, but a new study from The Conference Board can provide some much-needed insight.

Business and Sustainability in China: Company Responses to a National Priority presents the responses from nearly 500 Chinese and foreign companies in over 2,250 office or production sites across 30 Chinese provinces. This research represents one of the most comprehensive studies of corporate sustainability practices ever conducted in China.
Among the things you'll learn at the webcast are:
The key factors driving and/or constraining broader corporate sustainability activities in China.
How mature are corporate sustainability strategies and programs, especially concerning resource allocation and reporting?
Which types of companies are executing more effective sustainability initiatives and why?
Current progress—or deficits—of environmental management practices in China, especially those of industrial enterprises
Key lessons on execution of corporate sustainability from companies currently operating in China.

Audience: Executives in companies operating in China and globally who are interested in corporate programs and practices related to sustainability in China.
Speakers
Anke Schrader
Senior Researcher
China Center for Economics and Business

Anke Schrader leads the research of The Conference Board China Center for Economics and Business on corporate citizenship, sustainability, and human capital. Her current research interests include corporate sustainability practices, measurement, and reporting; corporate ...Full Bio

Marjolein Baghuis
Director of Communications & Network Relations
GRI

Marjolein Baghuis joined GRI in June 2010 as the Director of Communications & Network Relations. She is responsible for GRI's communication and outreach strategy, with the objective to increase awareness and engagement with the role of ESG reporting in the journey to a sustainable econo...Full Bio

David J. Vidal (Moderator)
Senior Fellow, Initiative on Sustainability

David J. Vidal is senior fellow, The Conference Board Initiative on Sustainability. Since joining The Conference Board in 1997, he has initiated and been responsible for research and program development in corporate citizenship and sustainability, corporate responsibilit...Full Bio