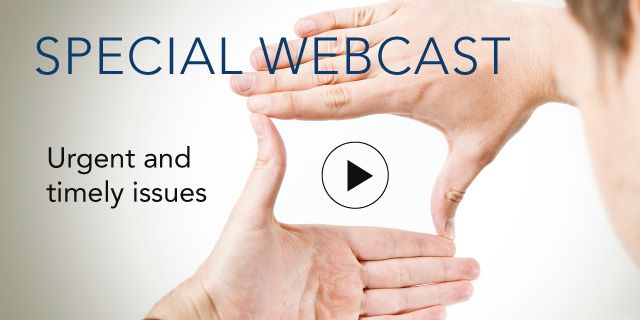 Research Partners for Global Corporate Philanthropy
An Invitation to Partner with TCB
10 August, 2011 | (01 hr)
Sign In to access this Webcast
As the worldwide footprint of business expands, companies need to refine scope of their global philanthropic program. Multi-national corporations from around the world seek insights on how to provide targeted social investments that best serve a wide variety of areas and populations, while adding to the larger value of the company at home and abroad. Faced with a complex landscape in these new locations, many companies are looking for a "map" of what globally effective philanthropic practices look like.

This September, The Conference Board will convene a Research Working Group (RWG) that would address these issues. This RWG includes member companies American Express, HSBC, General Mills, Caterpillar, Intel, Deere & Co., CIGNA and others who will work together with researchers to develop a game plan to answer: How can corporations develop an international philanthropy approach that recognizes each region's uniqueness and achieves meaningful outcomes for both the recipients and the firm?

Corporate philanthropy professionals are invited to attend this webcast to learn more about the nature and scope of the project; the time and financial commitment; and the output of the group and how it will benefit and enhance their current international philanthropic pursuits.

Research Working Groups are only available to member companies of The Conference Board and typically last six months. Two executives from each company partner with researchers and their peers to jointly review existing and needed data and frameworks. The RWG will result in a series of comprehensive overviews that detail findings, and conclusions and recommendations for 5-8 global regions.

Audience: This webcast and Research Working Group will be of interest to corporate philanthropy professionals of multi-national companies.


Speakers
Donald R. Greene
Program Director
The Conference Board

Donald Greene is program director for The Conference Board's two Contributions Councils and the Community and Public Issues Council. He is also is a partner in Tandem Consulting, serving non-profit, foundation and business client...Full Bio

Will Ball
Social Responsibility Initiatives
Caterpillar Inc.

In addition to serving as head of the Caterpillar Foundation, Will Ball has responsibility for Customer Services, Social Activities and Services and Peoria-area Governmental Affairs. His 20+ years at Caterpillar includes experiences in pricing, factory scheduling, new product introduction, manufa...Full Bio

Daria Lamb (Moderator)
Director, Research Working Groups
The Conference Board

Daria Lamb has been director of The Conference Board Research Working Groups since February 2011. In this role, she works closely with economists, human capital researchers, and governance professionals from The Conference Board offices in the United States, Europe, Asia, and India. She has launc...Full Bio